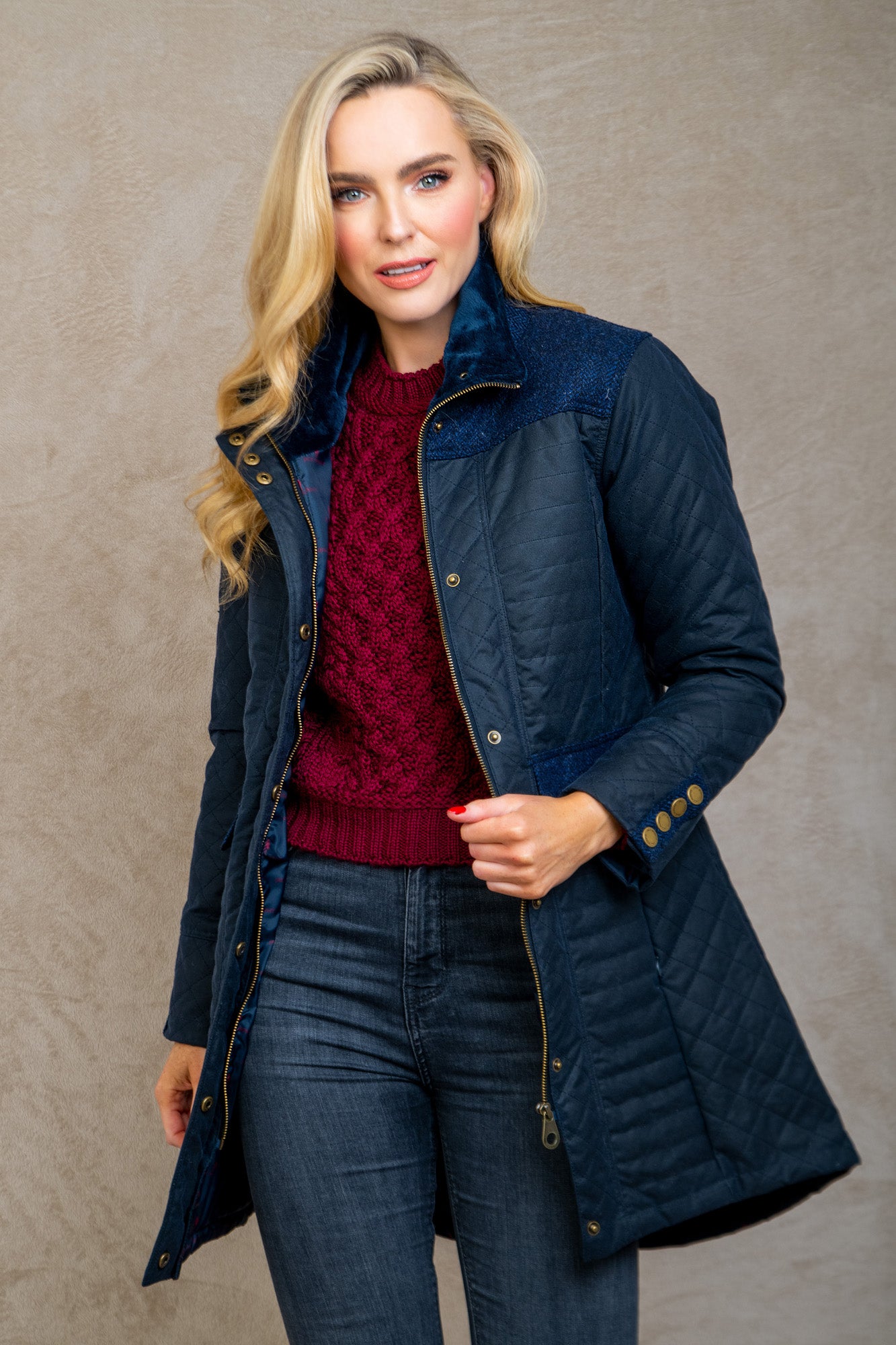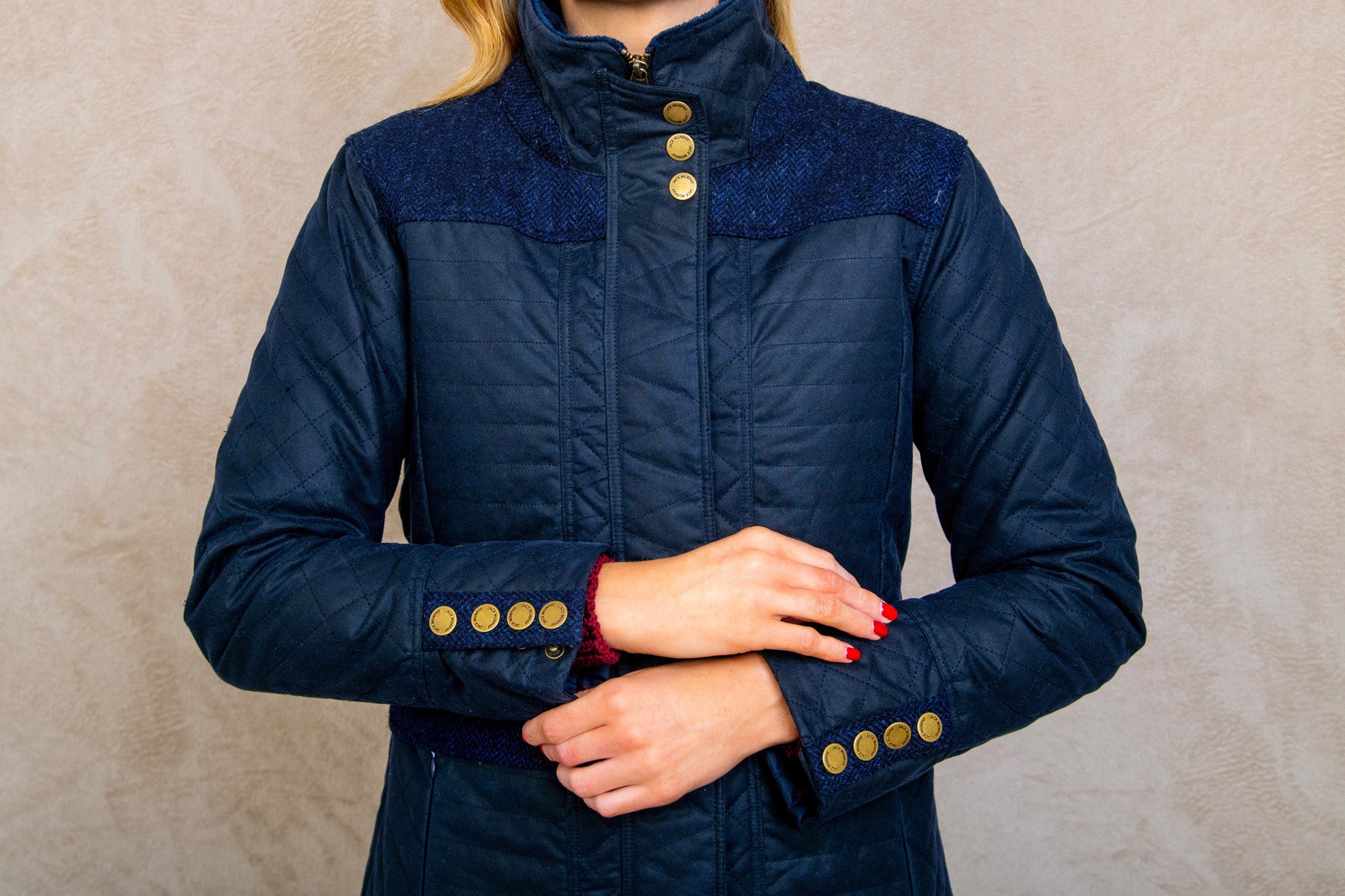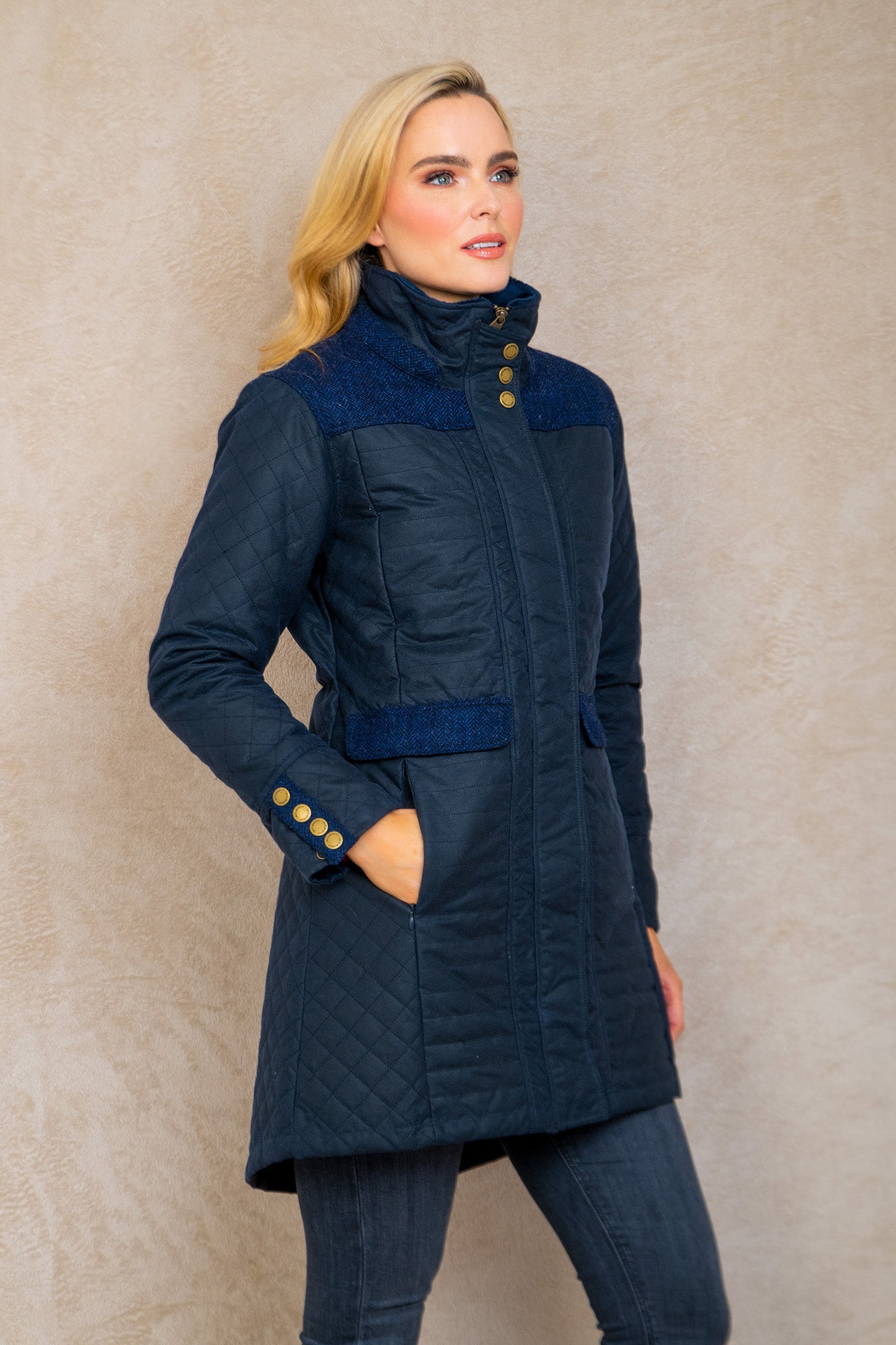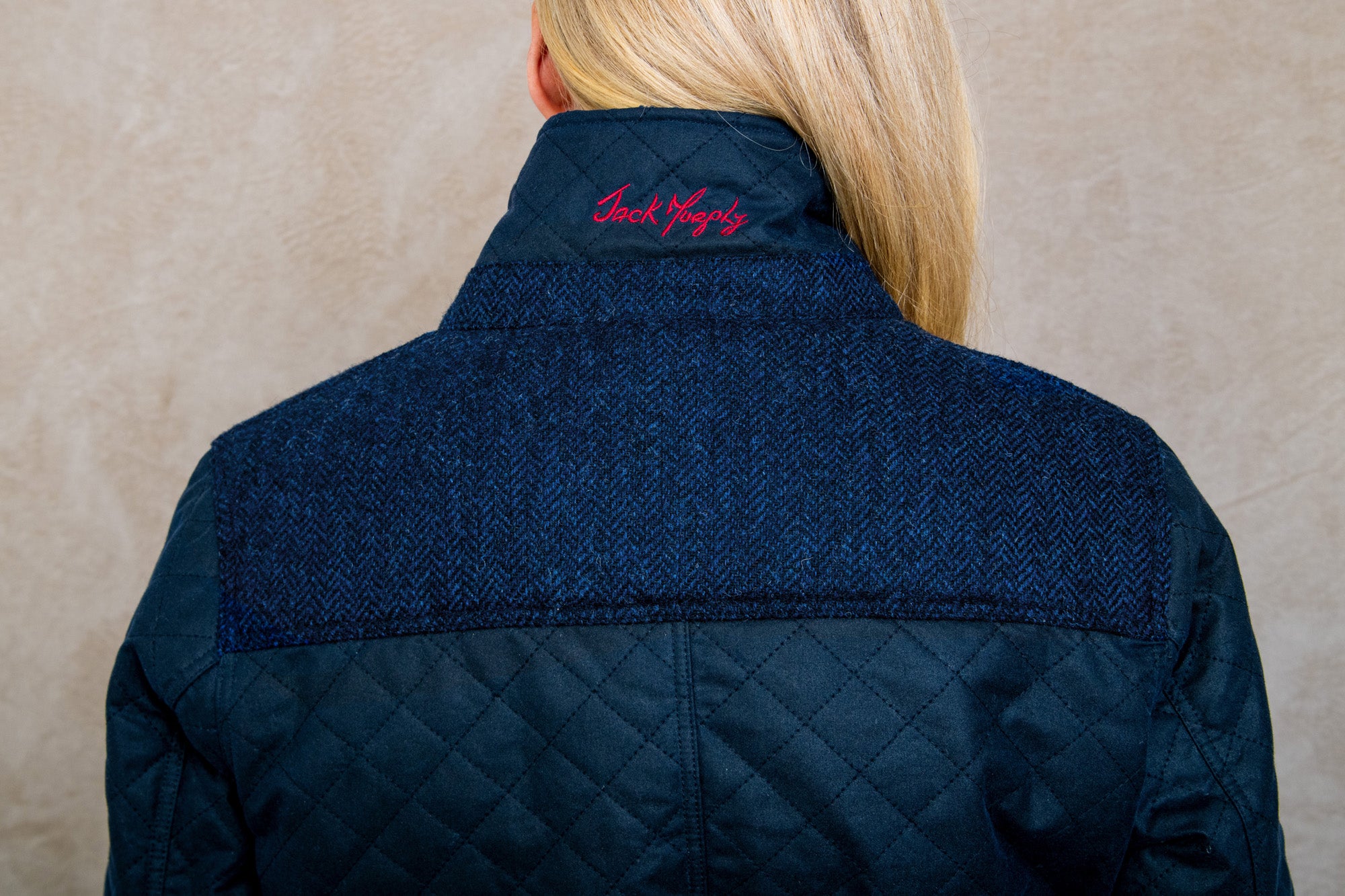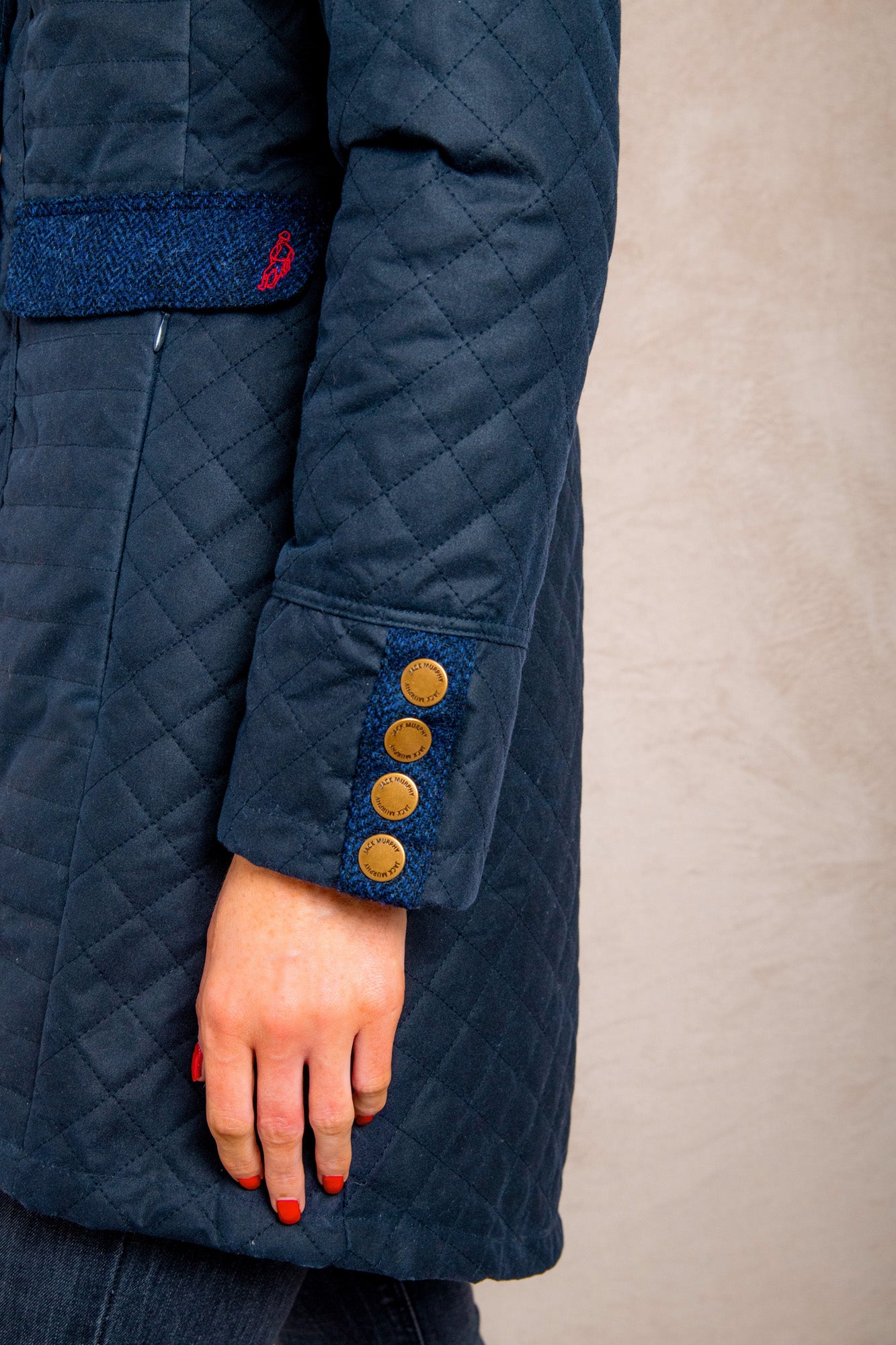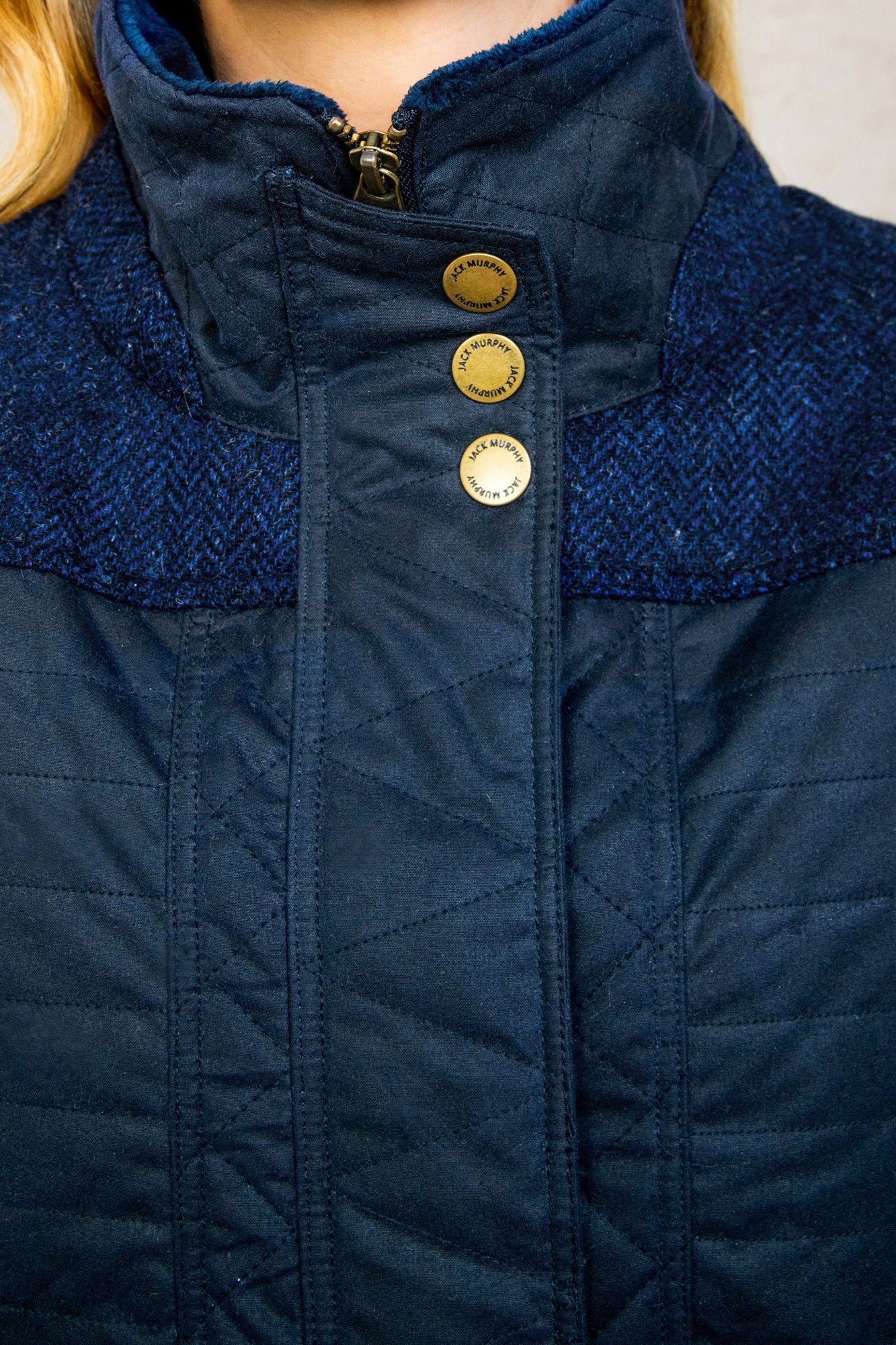 Contemporary take on waxed cotton, the Structured Quilted Mid-Length Coat, a modern and chic reinterpretation of the classic waxed cotton design. This coat is a true reflection of timeless elegance, tailored to perfection with exquisite details that elevate it to a class of its own.
Crafted from Halley Stevenson Scottish waxed cotton, renowned for its exceptional quality and durability, this mid-length coat boasts a dipped hem, high collar, and a delicately nipped waist. These design elements come together harmoniously, creating a flattering silhouette that accentuates the wearer's figure while providing a modern and confident look.
Embrace the colder days with comfort and style, as the quilted wax construction ensures an extra layer of warmth. The diamond quilted details add a touch of sophistication, setting this coat apart from the ordinary.
The stunning 100% Moon's tweed detailing on the shoulders and front flap pockets lends a luxurious touch, reflecting the impeccable craftsmanship that defines the Jack Murphy brand. Bronzed snap fasteners at the collar and cuffs add a stylish edge, harmonising beautifully with the overall design.
Practicality meets elegance with the inclusion of horizontal front flap pockets, providing both functional storage and a touch of flair with snap fastener closing. Hidden zipped pockets with an internal pocket offer a discreet yet accessible solution for keeping your essentials close at hand.
The stand collar boasts a faux fur lining, enveloping you in warmth and luxury during colder weather. The statement cuffs feature tweed trim and four functional snap fasteners, showcasing a meticulous attention to detail that elevates this coat to the epitome of refined style.
The front placket, adorned with diamond quilting, discreetly conceals the zip and snap fasteners, ensuring a seamless and polished look that exudes sophistication.
Embrace the beauty of the Structured Quilted Mid-Length Coat – a true contemporary classic that redefines waxed cotton fashion and sets the standard for modern elegance. Experience the union of style, sustainability, and craftsmanship, making this coat a timeless addition to any wardrobe.
Consciously made as part of our sustainability commitment. Our clothes are made to last, using ethically sourced fabrics and creating minimal waste by operating "make to order" production. 

- Halley Stevenson Scottish waxed cotton mid-length coat.
- Tailored to compliment the figure with dipped hem and waisted drawstring at back.
- Quilted wax for extra warmth with diamond quilted details.
- Waterproofed fabric with taped seams.
- Unique Moon's tweed trims on shoulders, front flap pockets and cuffs.
- Horizontal front flap pockets with snap fastener closing and hidden zipped pockets with an internal pocket. 
- Stand collar with faux fur lining and bronzed Jack Murphy snap fastener detailing.
- Statement cuffs with tweed trim and 4 functional snap fasteners.
- Front placket with diamond quilting covering the zip and hidden snap fasteners.
Care instructions - Avoid contact with alcohol based products, fabric softeners & solvent cleaners. Never use soap or detergents. Clean by sponging lightly with cold water. Regular reproofing will maintain weatherproof qualities of the fabric & prolong its life. 

Model - wearing UK10

Colours - Navy / Olive / Black / Teal / Claret 

Storage - Always ensure to hang in a well vented area, hang in a garment bag if storing for long period of time

Sizing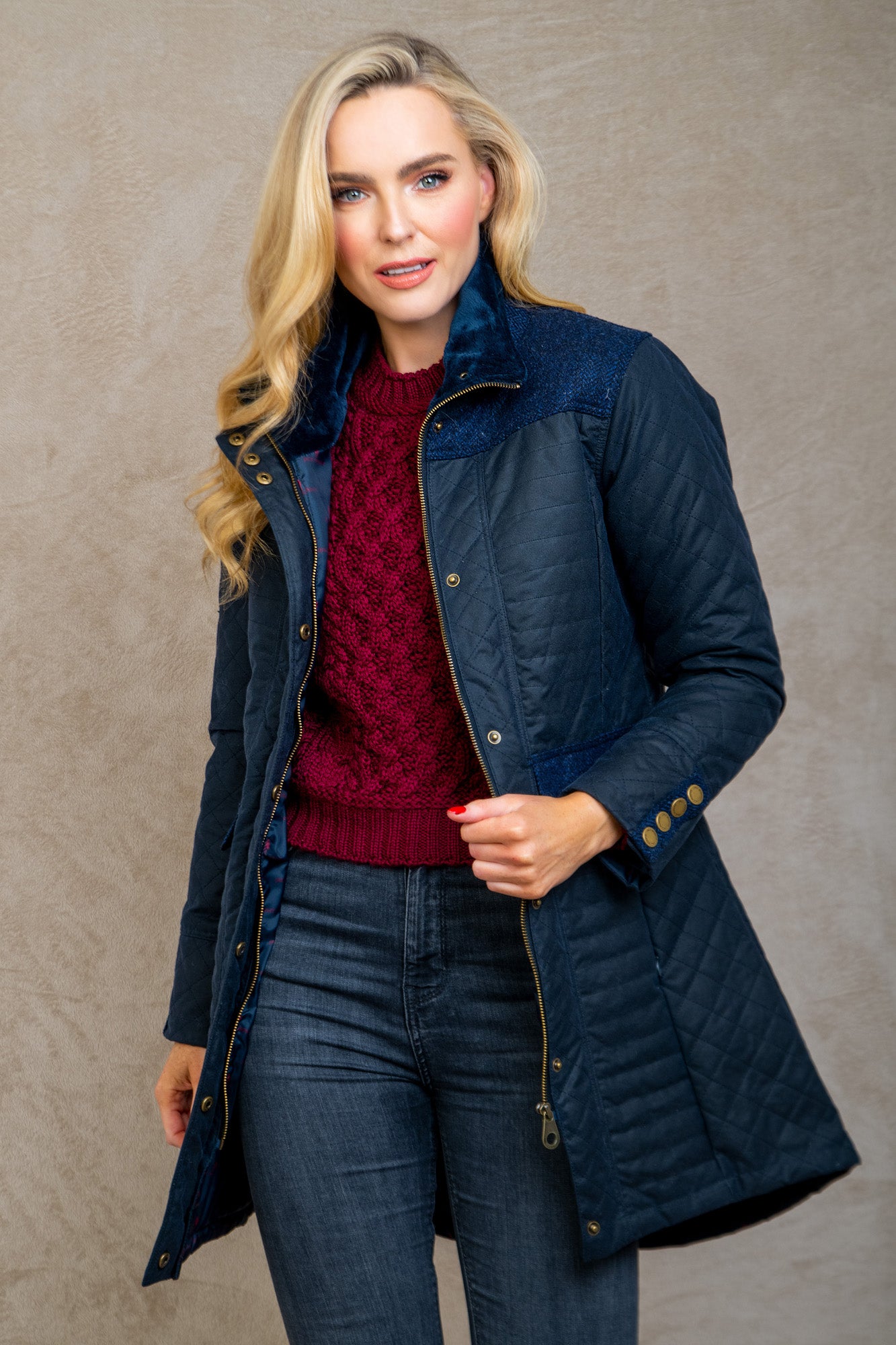 Jodie Wax Coat - Navy
Sale price

$363.00
Regular price
Choose options