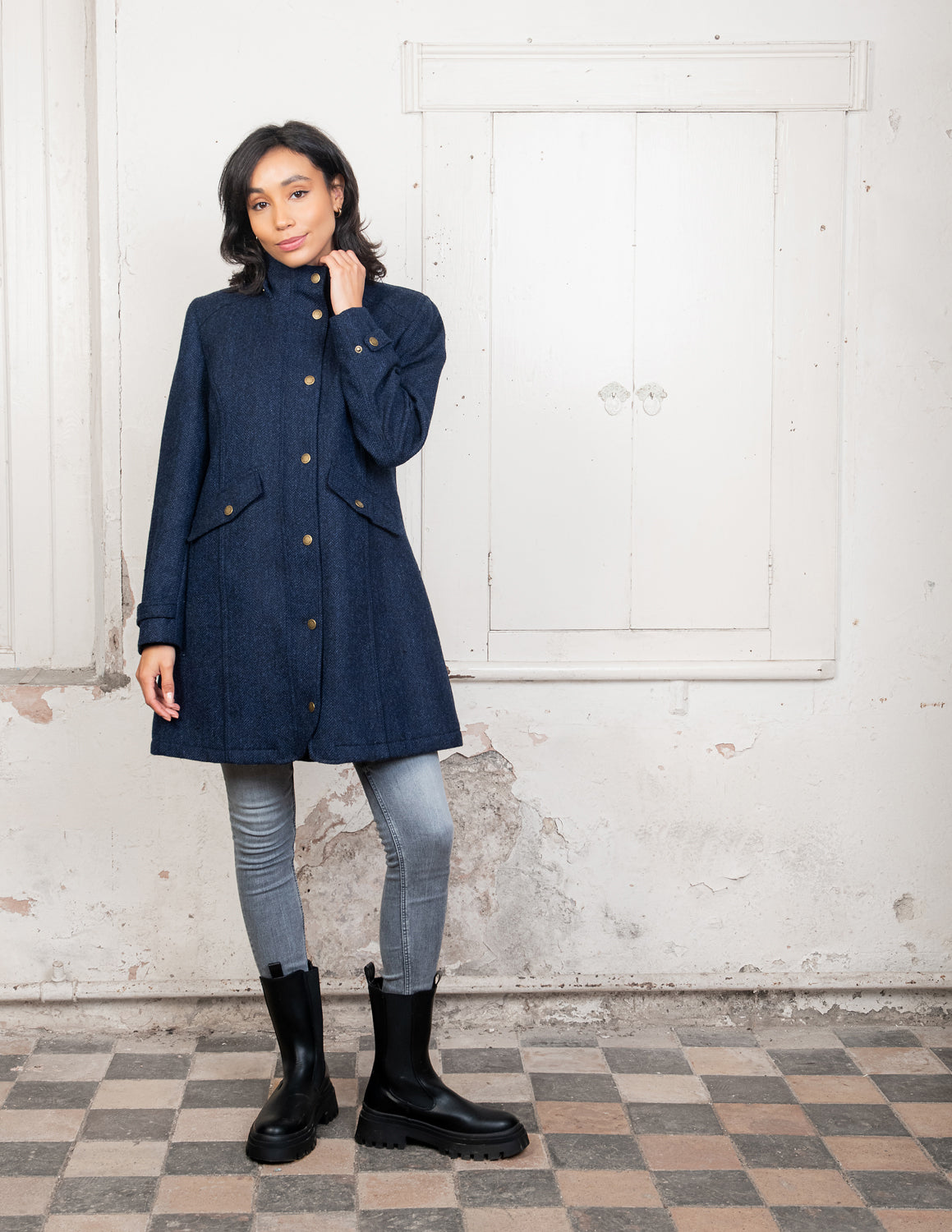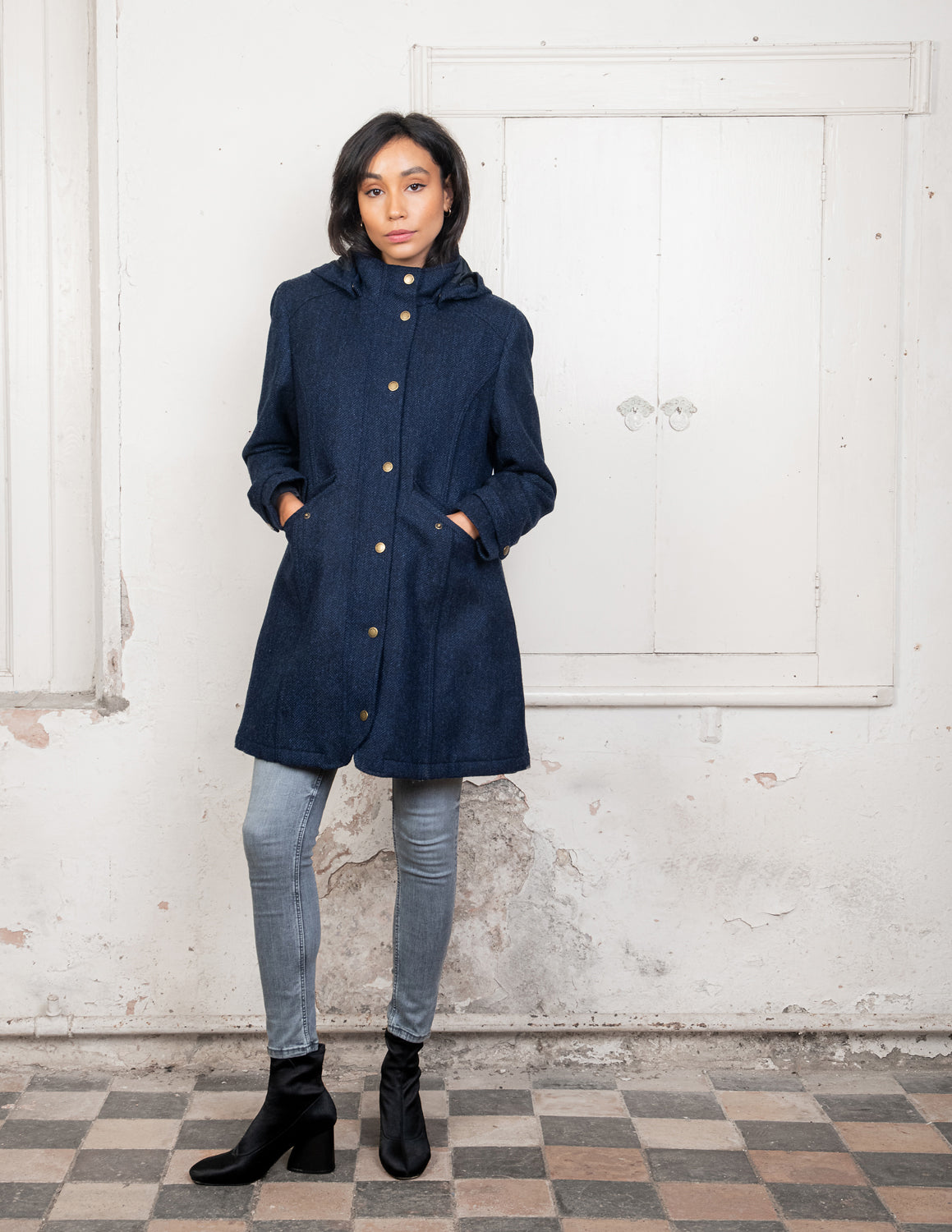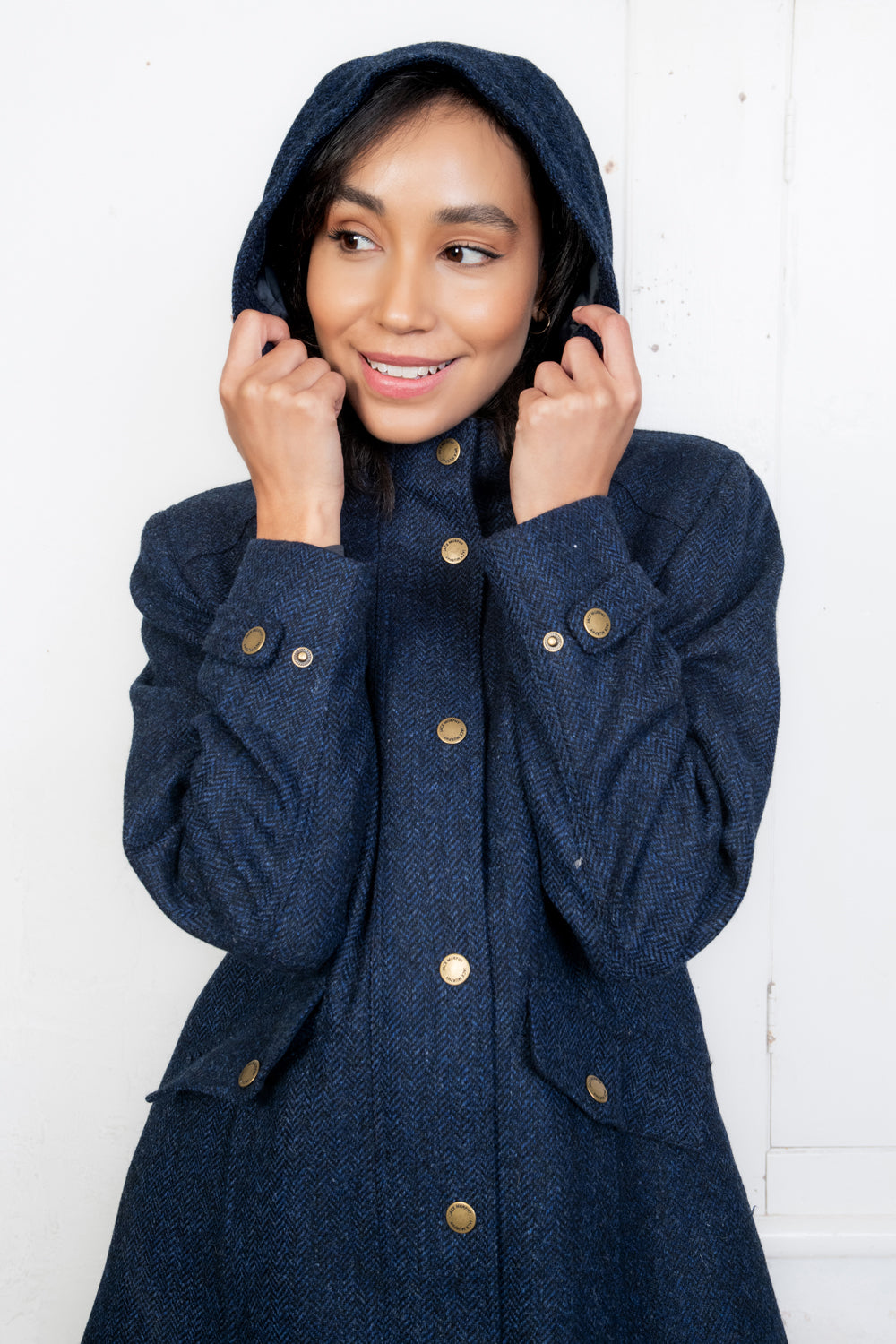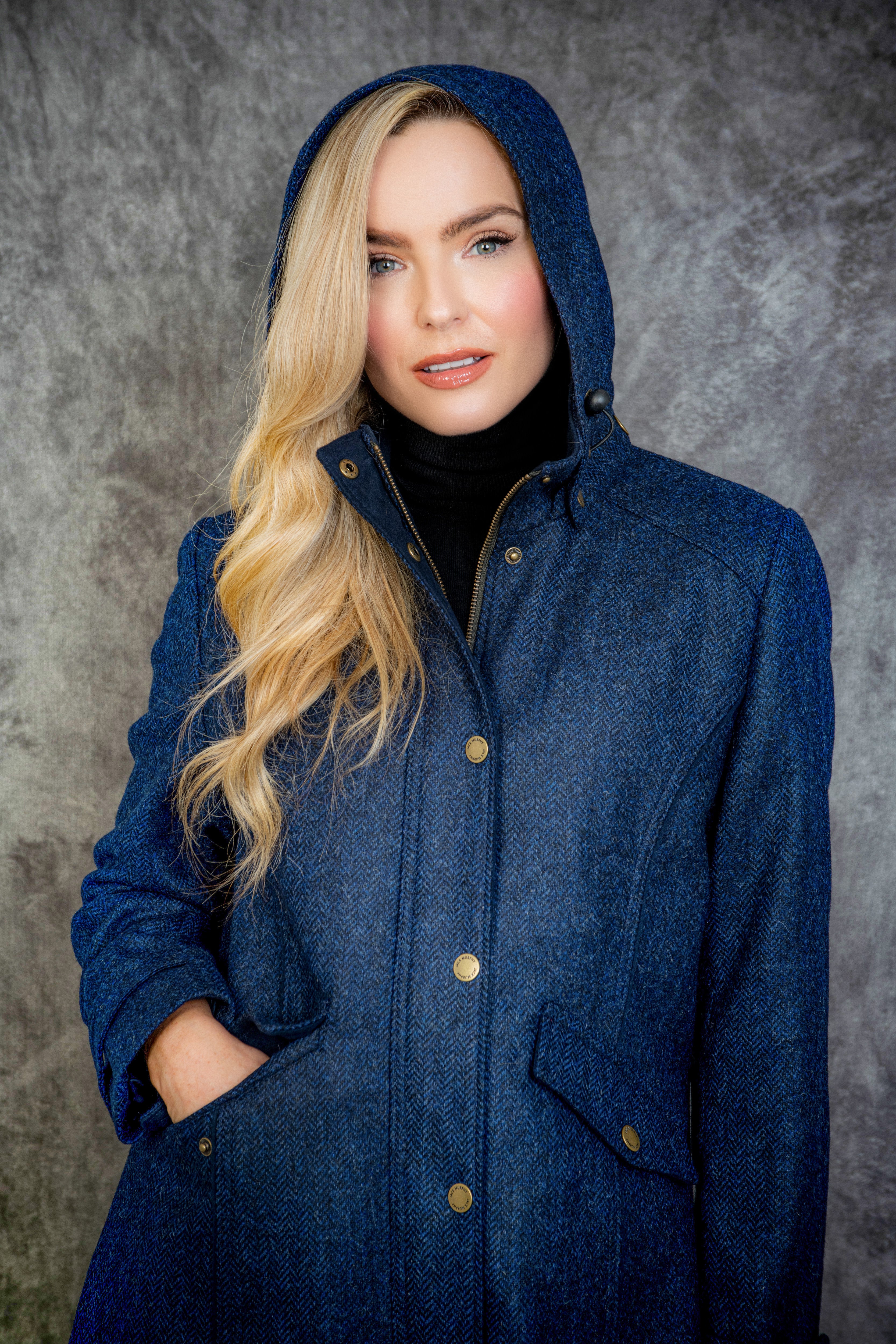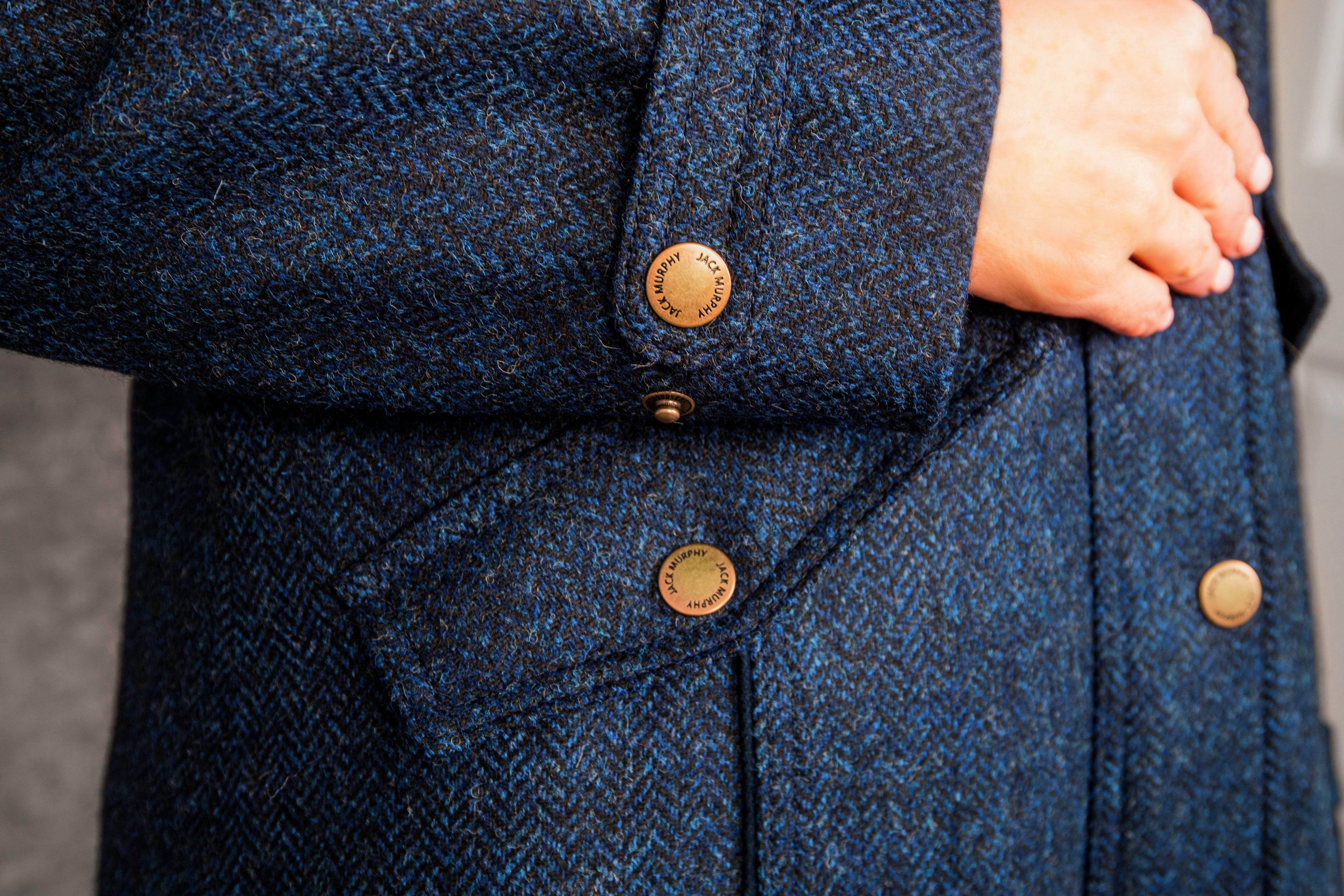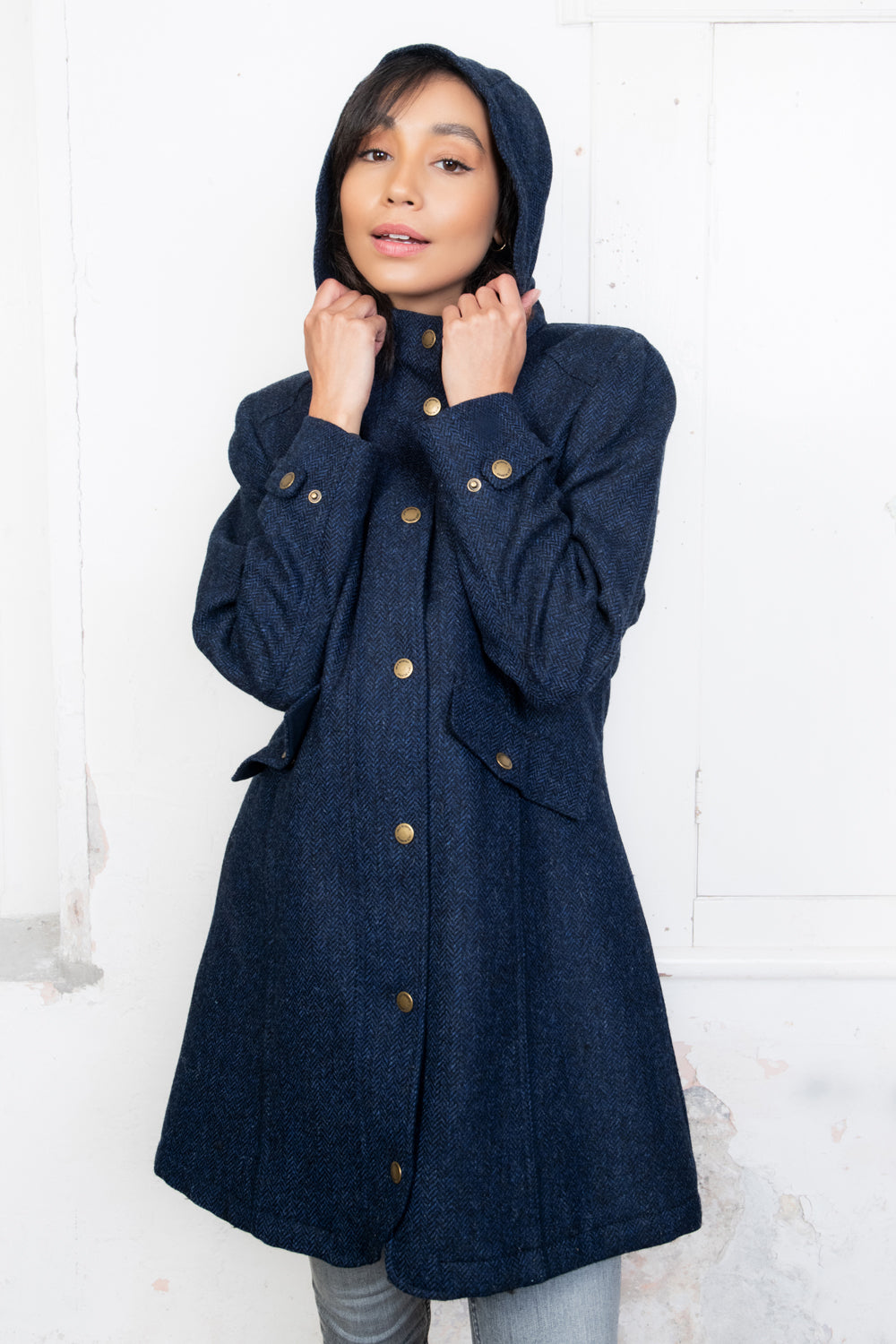 Abbie Tweed Coat - Navy Herringbone
Sale price

$544.00
Regular price

$484.00
(/)
---
3 in stock
5 in stock
4 in stock
Only 2 units left
3 in stock
4 in stock
Out of stock
Step into a world of functional elegance with our Abbie Tweed Coat, the epitome of versatile outerwear designed to be your go-to companion for all your outdoor adventures. This modern cloak seamlessly blends style and functionality, ensuring you stay warm and dry in the face of changing weather conditions, all while exuding an air of contemporary sophistication.
Crafted with meticulous care, this exceptional coat is made from 100% Moons Tweed, a testament to the finest quality and craftsmanship. Experience the luxurious texture and unmatched comfort of this exquisite fabric, as you bask in the embrace of its timeless appeal that effortlessly elevates your ensemble to new heights of elegance.
Adapting to your every need, the Abbie Tweed Coat features a detachable hood, offering you the freedom to tailor your protection to the weather's demands. Whether it's a breezy autumn stroll or a drizzly winter day, you can effortlessly adjust your level of comfort and style with this thoughtful design element.
Embrace the perfect fit with the coat's relaxed silhouette, allowing you to move with ease and grace during all your outdoor pursuits. Slanted flapped pockets not only serve as stylish accents but also provide practical storage for your essentials, ensuring they are always within easy reach for your convenience.
Make a bold and confident fashion statement with the coat's statement buttons, adding a touch of flair and personality to your ensemble. These eye-catching embellishments not only elevate your style but also enhance the coat's functionality, securing the front closure with ease and finesse.
Unleash your adventurous spirit with the back vent thoughtfully positioned at the bottom of the coat, promoting ease of movement and agility as you navigate diverse terrains and activities. This thoughtful design element ensures that you can confidently stride through any adventure, unrestricted and unrestricted in your movements.
Indulge in an unparalleled experience of comfort with the coat's full lining, enveloping you in luxurious warmth and a sumptuous feel against your skin. Discreet internal pockets add an element of practicality, keeping your valuables secure and within easy reach without compromising the coat's sleek and streamlined appearance.
Embrace the allure of functional elegance with the Abbie Tweed Coat– a masterpiece of contemporary design and impeccable craftsmanship. As you revel in the embrace of its luxurious fabric and thoughtful features, you'll discover a coat that not only complements your every outdoor endeavour but also captures the essence of modern style, creating a lasting impression with its timeless charm and exceptional quality.
Key Features:
Seamlessly blends style and functionality for warmth and dryness.

Crafted with meticulous care from 100% Moons Tweed for finest quality.

Adaptable detachable hood for weather protection on the go.

Relaxed silhouette ensures ease and grace during outdoor pursuits.

Slanted flapped pockets for style and practical storage.

Statement buttons add flair and secure front closure with finesse.

Thoughtful back vent promotes ease of movement and agility.

Luxurious full lining envelopes in warmth and comfort.

Discreet internal pockets keep valuables secure and handy.

Masterpiece of contemporary design and impeccable craftsmanship.
Care instructions - Dry Clean Only

Model - wearing UK10 / Model Height - 5'10''(in feet & inches) 1.778(m) 177.8(cm)

Colours - Navy Herringbone / Deep Green Herringbone 

Storage - the ideal for tweed fabric and clothing would be a cedar chest / wardrobe. But any cool dry place is fine, as long as your garments are protected from moths. If storing for long, we recommend bagging.
Sizing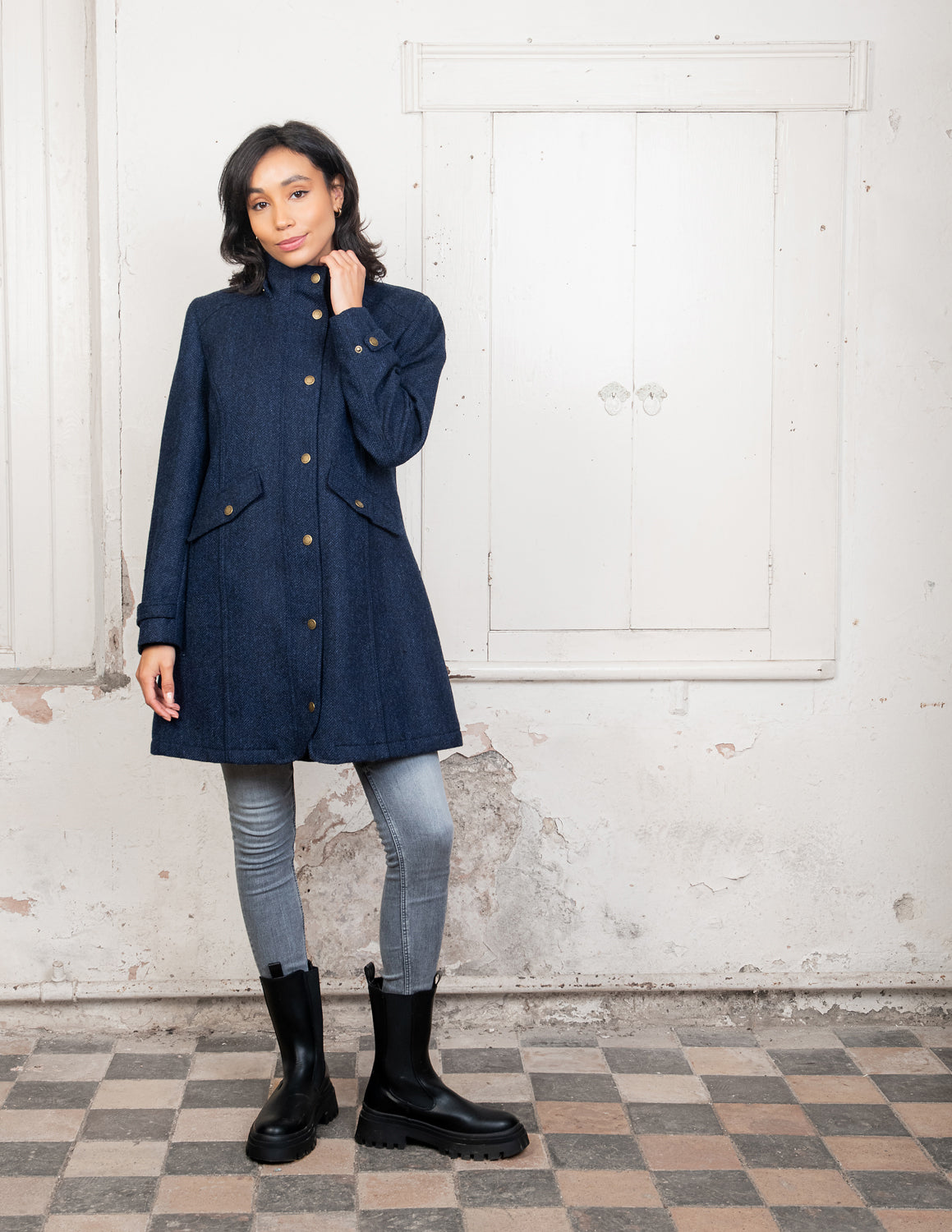 Abbie Tweed Coat - Navy Herringbone
Sale price

$544.00
Regular price

$484.00
Choose options