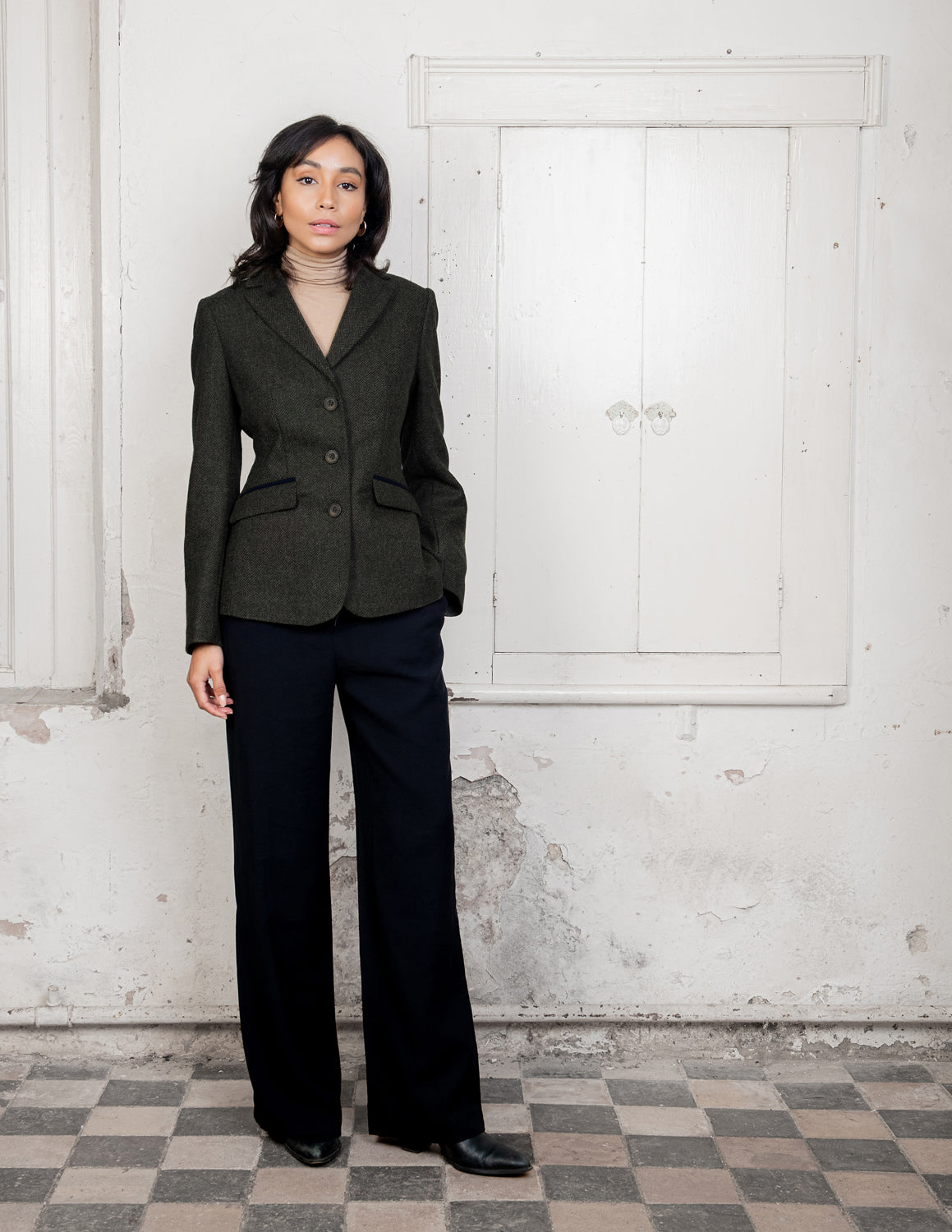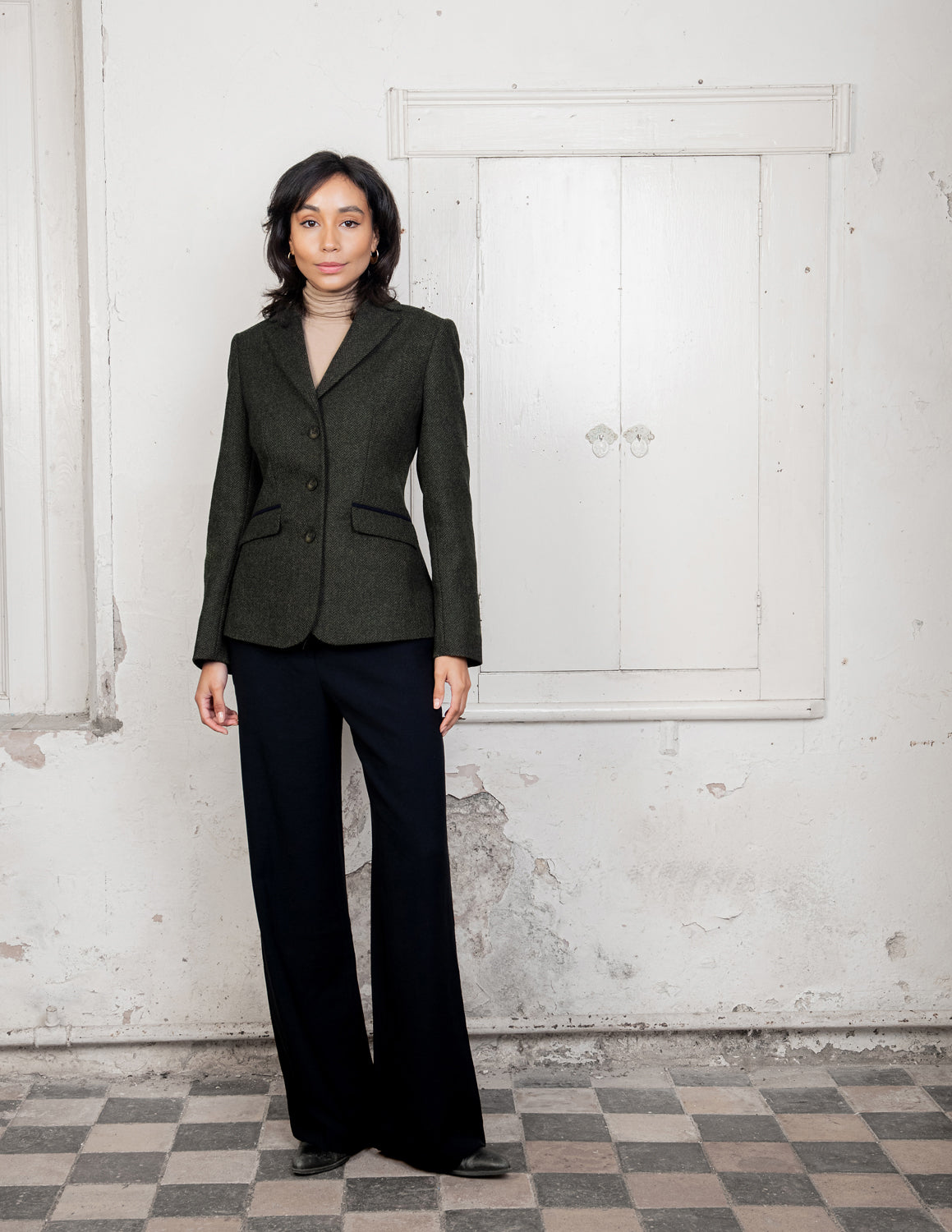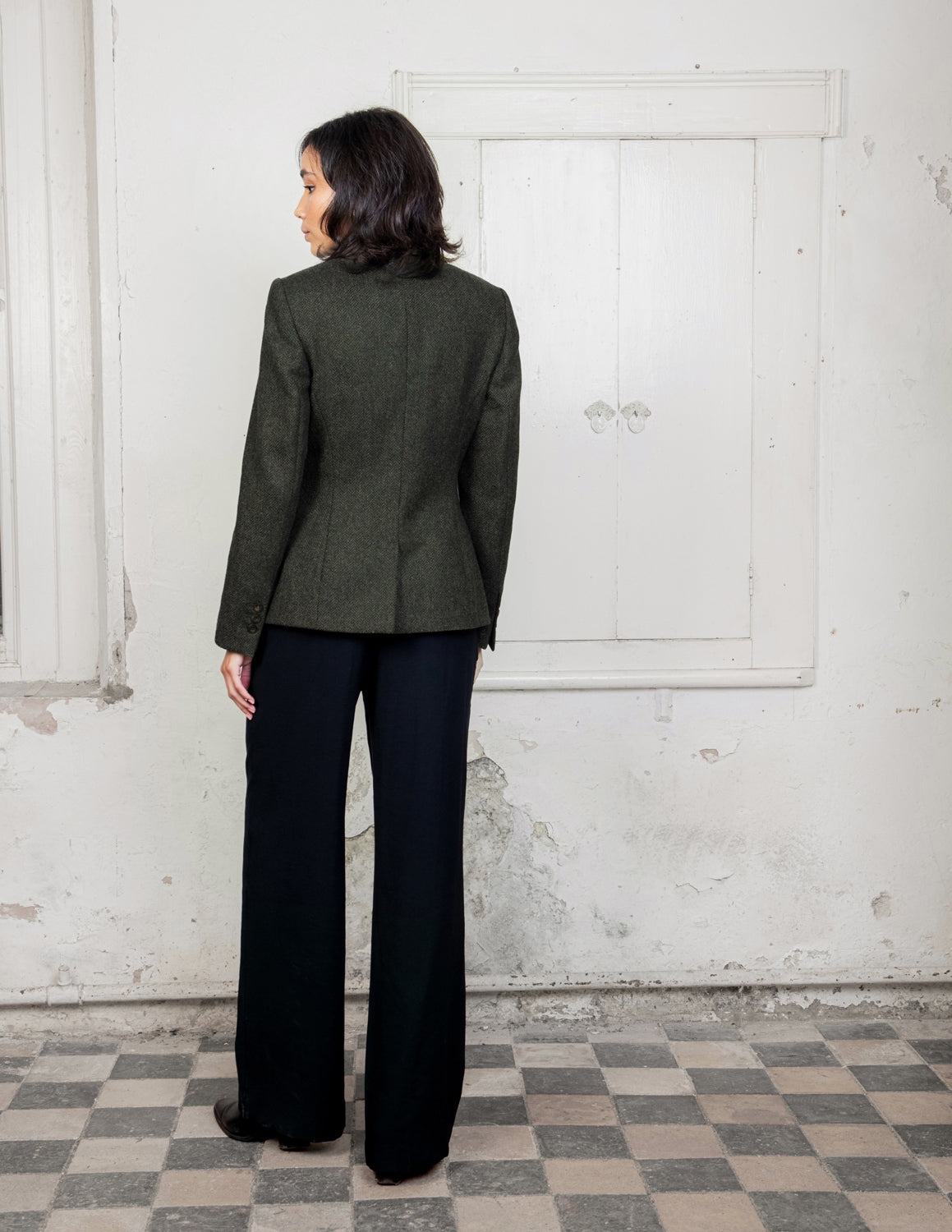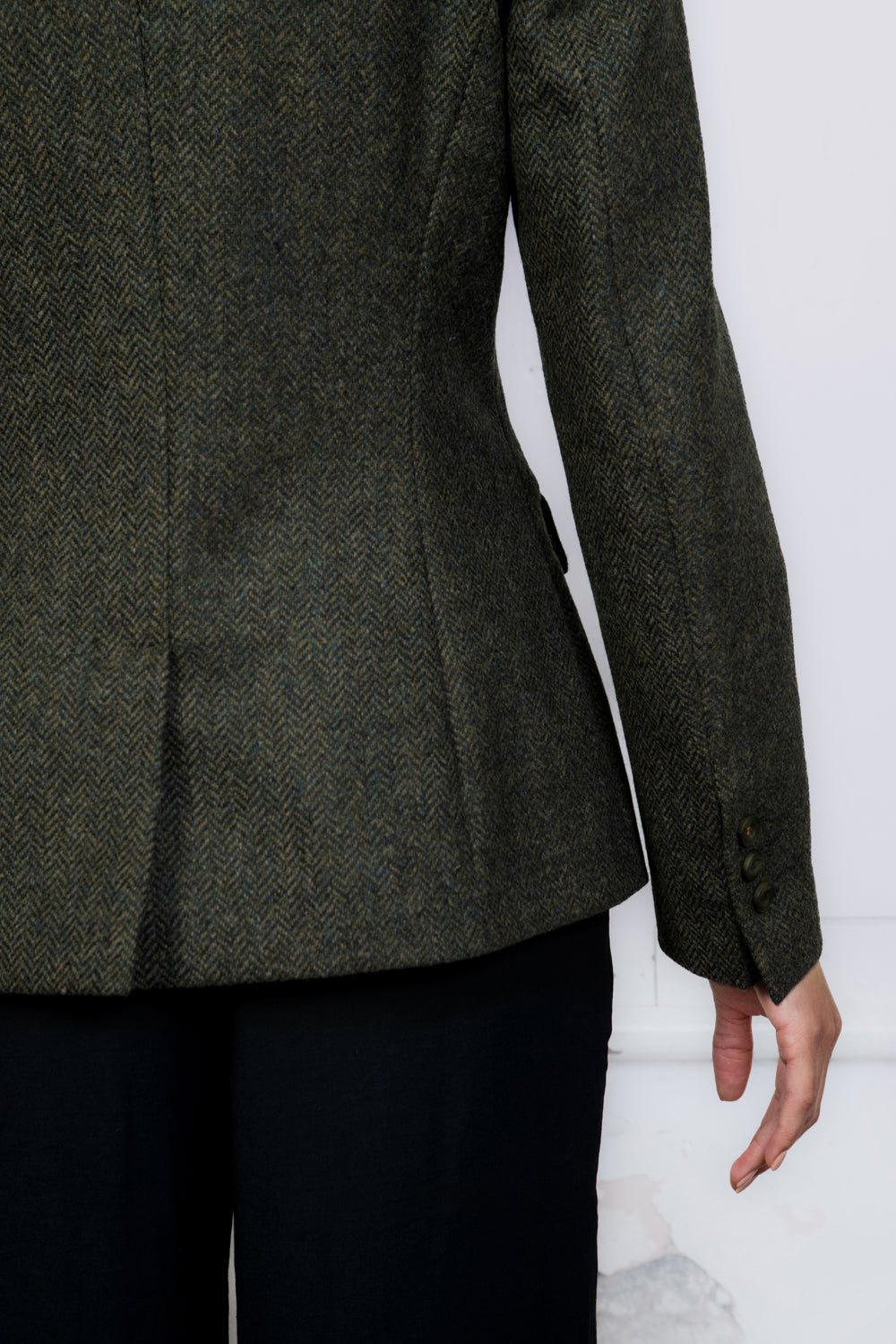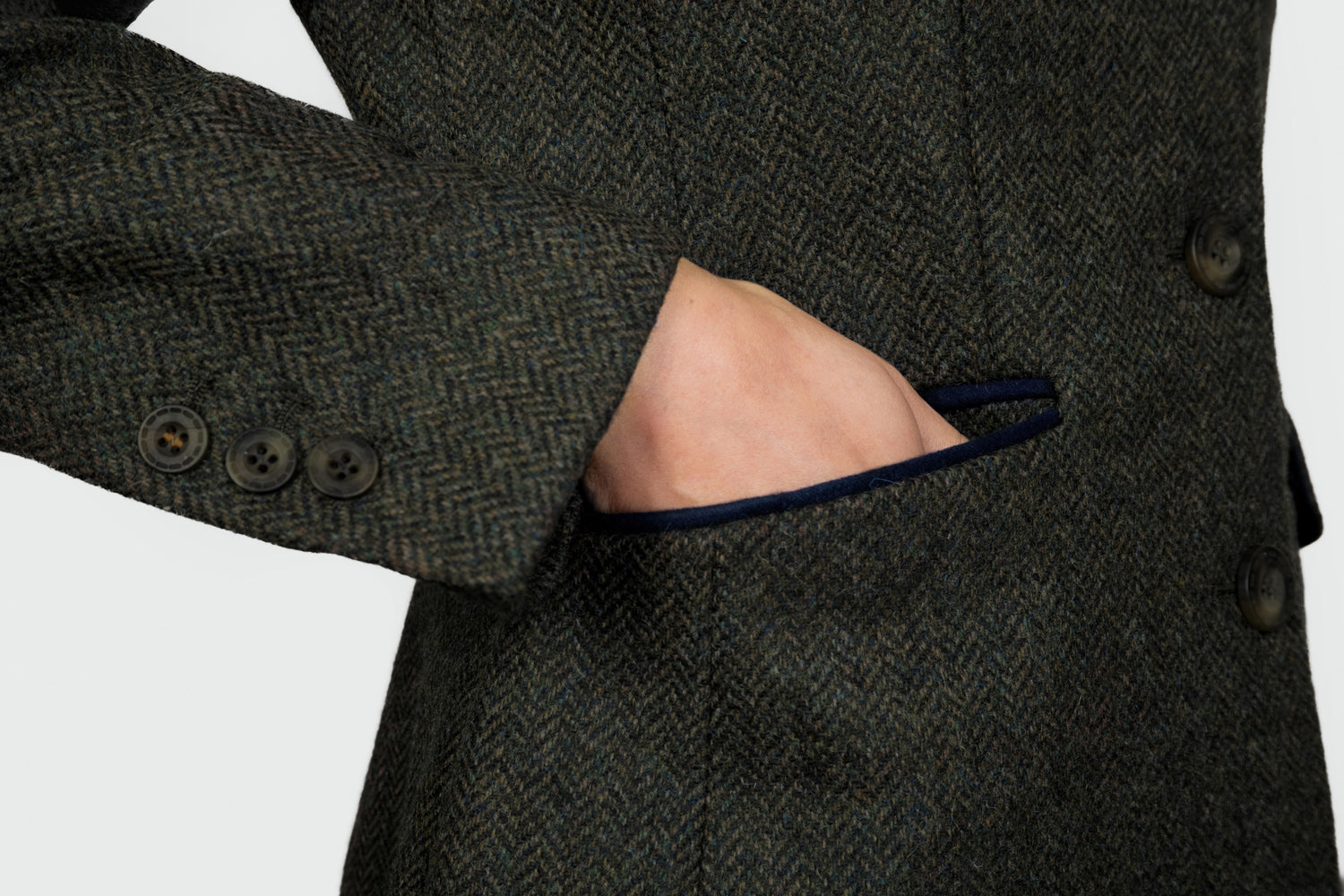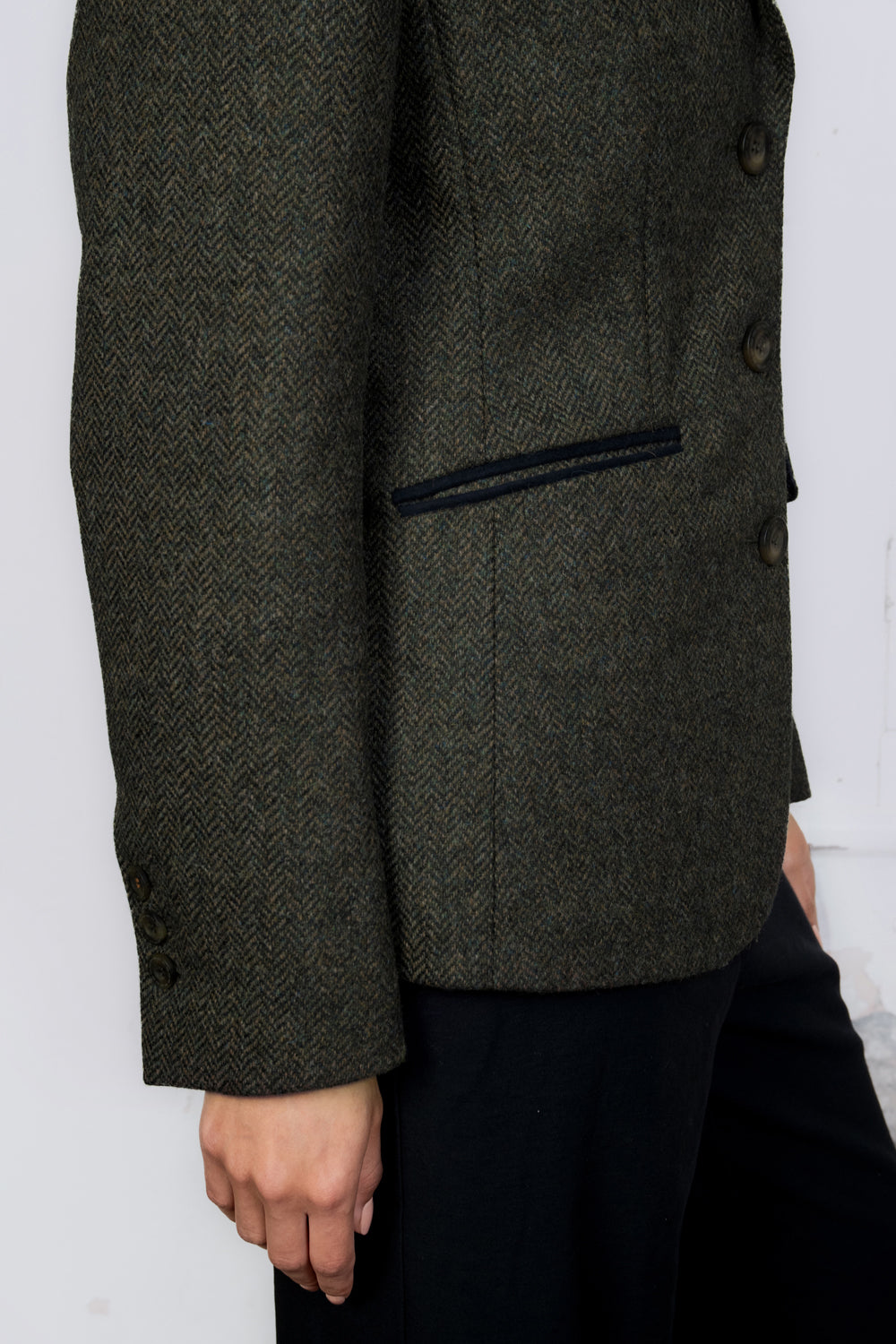 Tara Tweed Hacking Jacket - Deep Green Herringbone
Sale price

$379.00
Regular price
(/)
---
Out of stock
Out of stock
Only 2 units left
Only 1 unit left
Out of stock
Out of stock
Embrace the grace and sophistication of our Classic Hacking Jacket, meticulously crafted with 100% wool tweed. This sleek and structured blazer is thoughtfully designed to flatter the feminine figure, featuring a tailored waist and a slightly longer cut than our other blazers. The result is a refined style that effortlessly complements your silhouette, adding an air of elegance to your ensemble.
Drawing inspiration from traditional equestrian attire, the Classic Hacking Jacket boasts slanted flap pockets and an open collar with notched lapels. This blend of classic elements creates an elegant style that transcends time and remains a symbol of timeless fashion.
At the heart of our brand lies a deep commitment to sustainability. This Hacking Jacket is a true testament to our values, as it is consciously made using ethically sourced fabrics and recyclable trims. Crafted with care, our clothes are designed to last, reducing our environmental impact while promoting a more sustainable fashion industry. We embrace a "make to order" production approach, minimising waste and ensuring every piece is created with love and purpose.
The foundation of this blazer is its 100% wool tweed, woven in Yorkshire by Moon's,  the impeccable craftsmanship and premium quality of this fabric add to the jacket's allure, making it a true embodiment of British textile heritage.
Elegance meets functionality in the Classic Hacking Jacket. Its elongated cut and clean lines create a refined and polished look suitable for a variety of occasions. The tailored straight front closing with three buttons adds a touch of sophistication, while the single back vent allows for ease of movement and comfort.
The button details on the cuffs offer versatility in styling, allowing you to open them for an alternative and relaxed look. Inside, you'll find a classic dot lining, providing an exquisite finishing touch. The lining also includes an internal pocket, perfect for safely storing your essentials.
The Classic Hacking Jacket is more than just a piece of clothing; it's an investment in style, quality, and sustainability. Its versatility allows it to effortlessly transition from casual to formal occasions, making it a staple in any modern woman's wardrobe.
Elevate your style with the Classic Hacking Jacket, designed to empower you with confidence and elegance. Experience the allure of timeless fashion with a sustainable twist, embracing a brighter and greener future through conscious fashion choices.
Key Features: 
- 100% wool tweed woven in Yorkshire.
- Made from sustainable and recyclable fabrics and trims. 
- Tailored tweed blazer in Moon's tweed,
- Traditional hacking jacket with tailored waist to compliment your figure.
- Classic open collar with notched lapels.
- Elongated cut and clean lines create this refined style.
- Tailored straight front closing with 3 buttons.
- Slanted front flap pockets and a single back vent.
- Button details on the cuffs that open for alternative styling.
- Classic dot lining with an internal pocket.
Care instructions - Dry Clean Only
Model - wearing UK10 Model Height - 5'10''(in feet & inches) 1.778(m) 177.8(cm)
Storage - the ideal for tweed fabric and clothing would be hanging in a cedar chest/wardrobe. But any cool dry place is fine, as long as your garments are protected from moths. If storing for long, we recommend bagging.
Sizing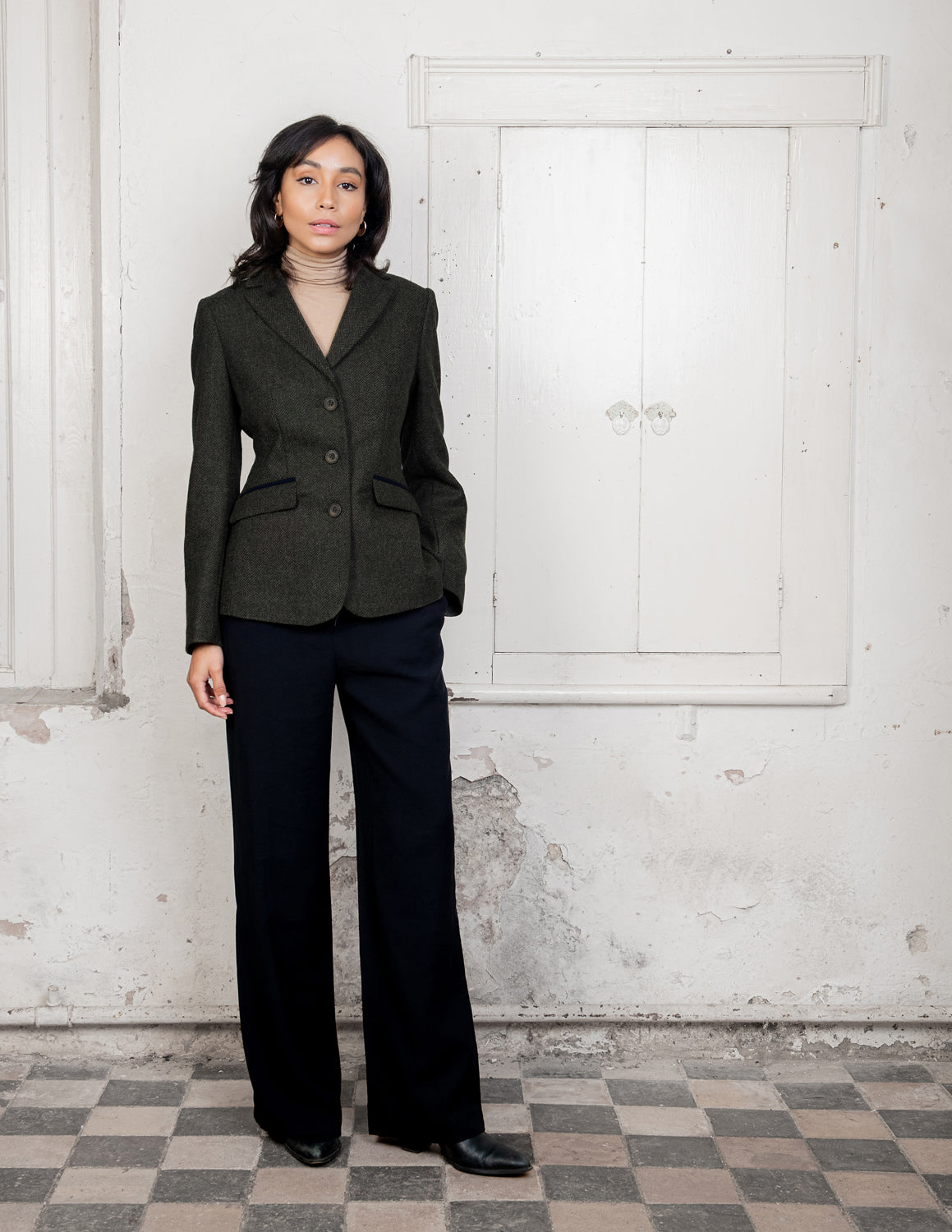 Tara Tweed Hacking Jacket - Deep Green Herringbone
Sale price

$379.00
Regular price
Choose options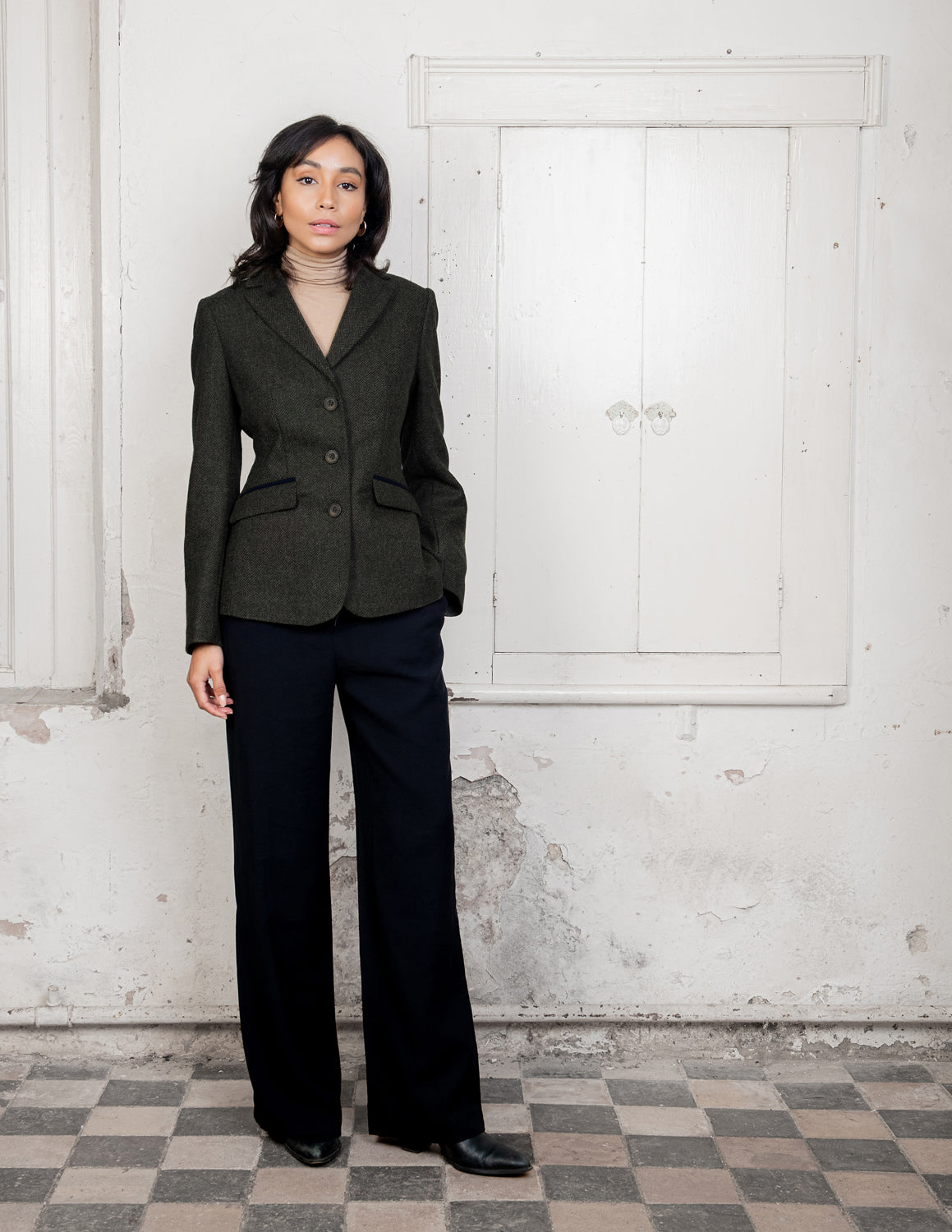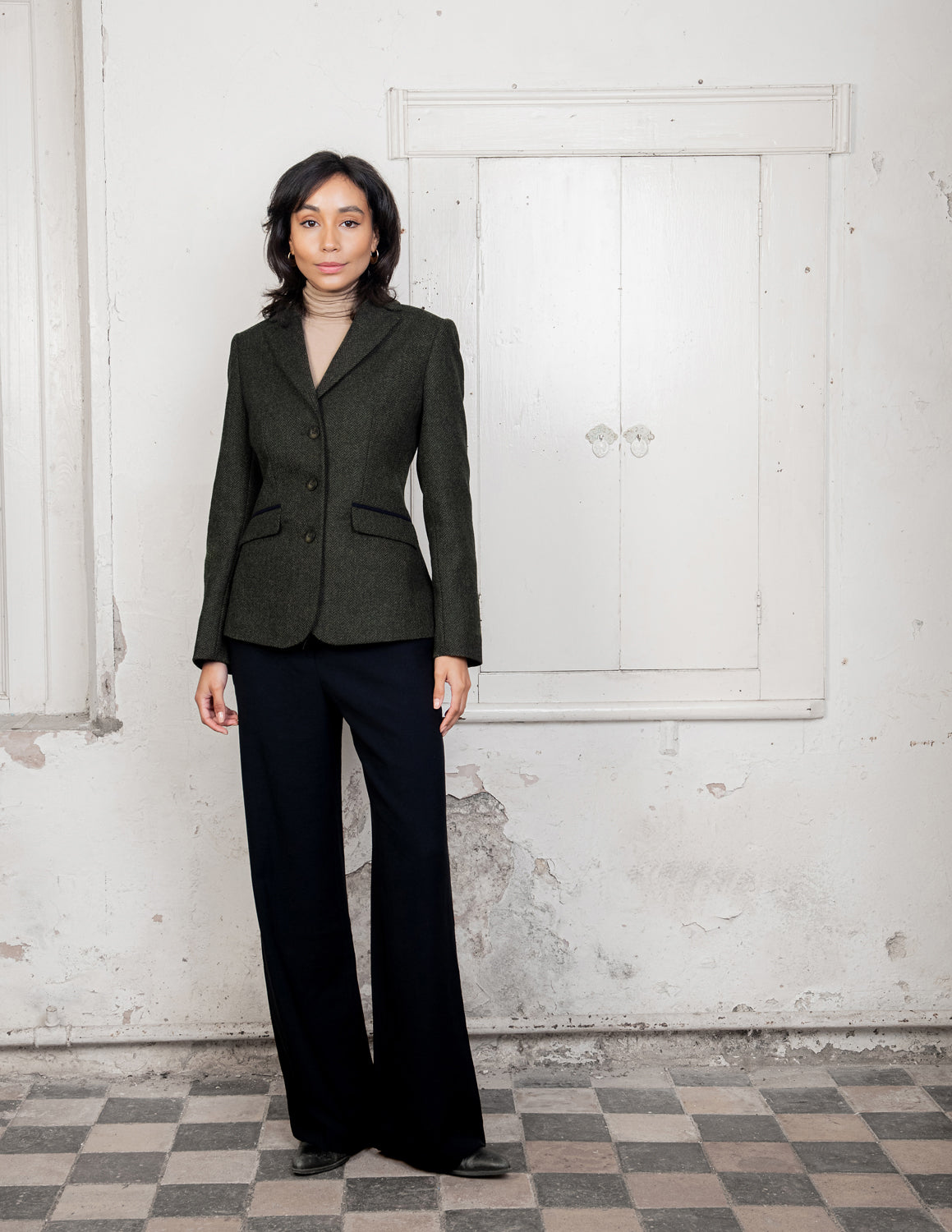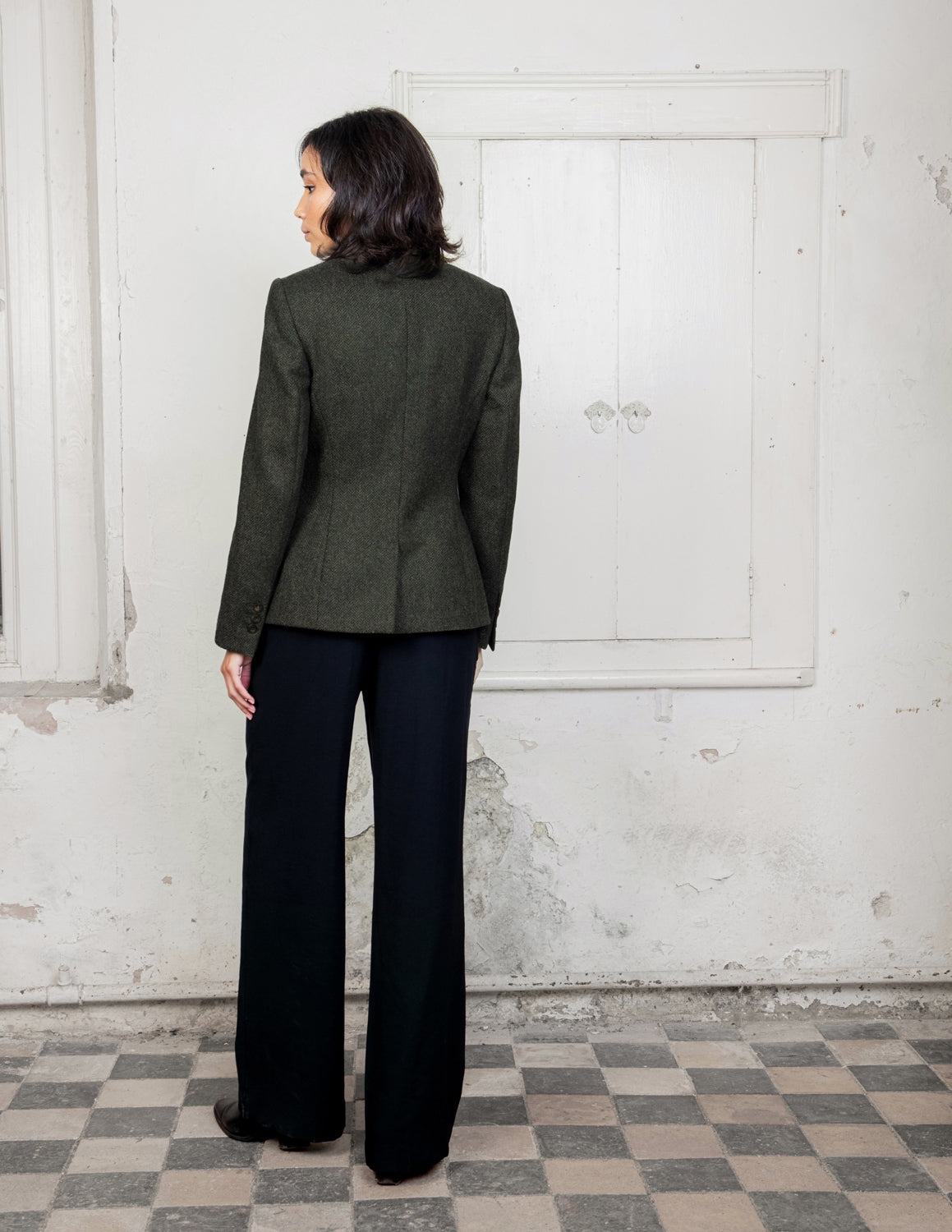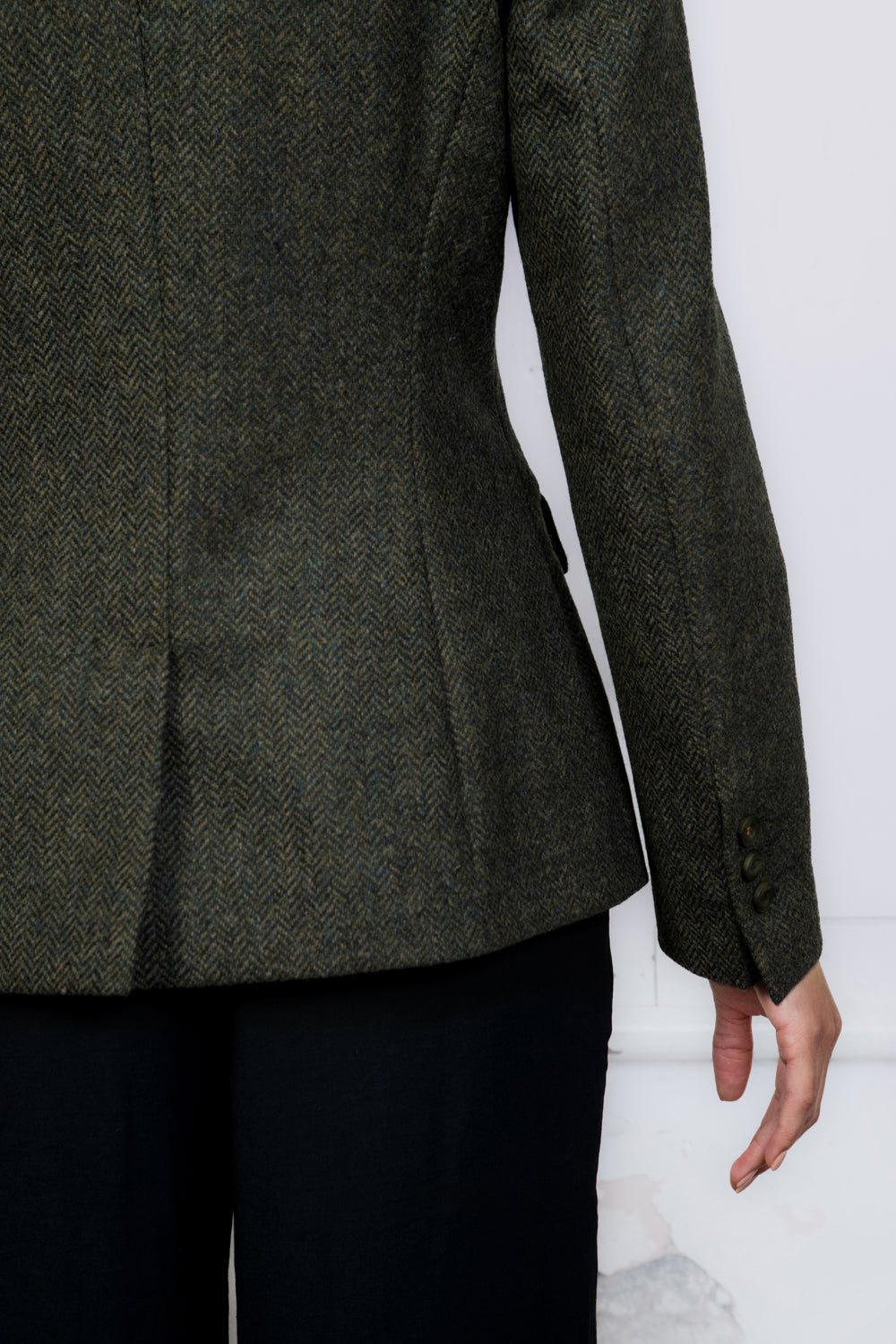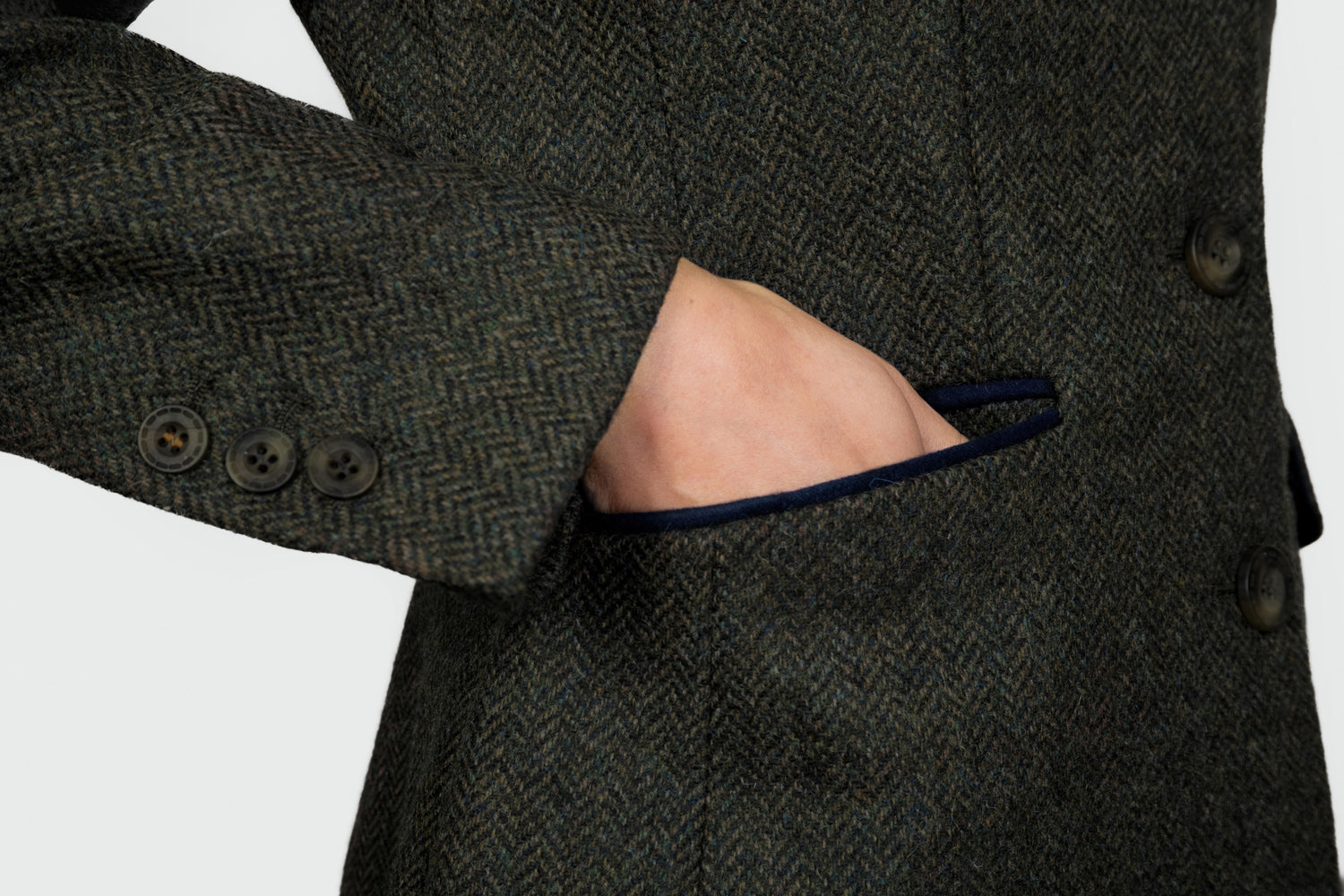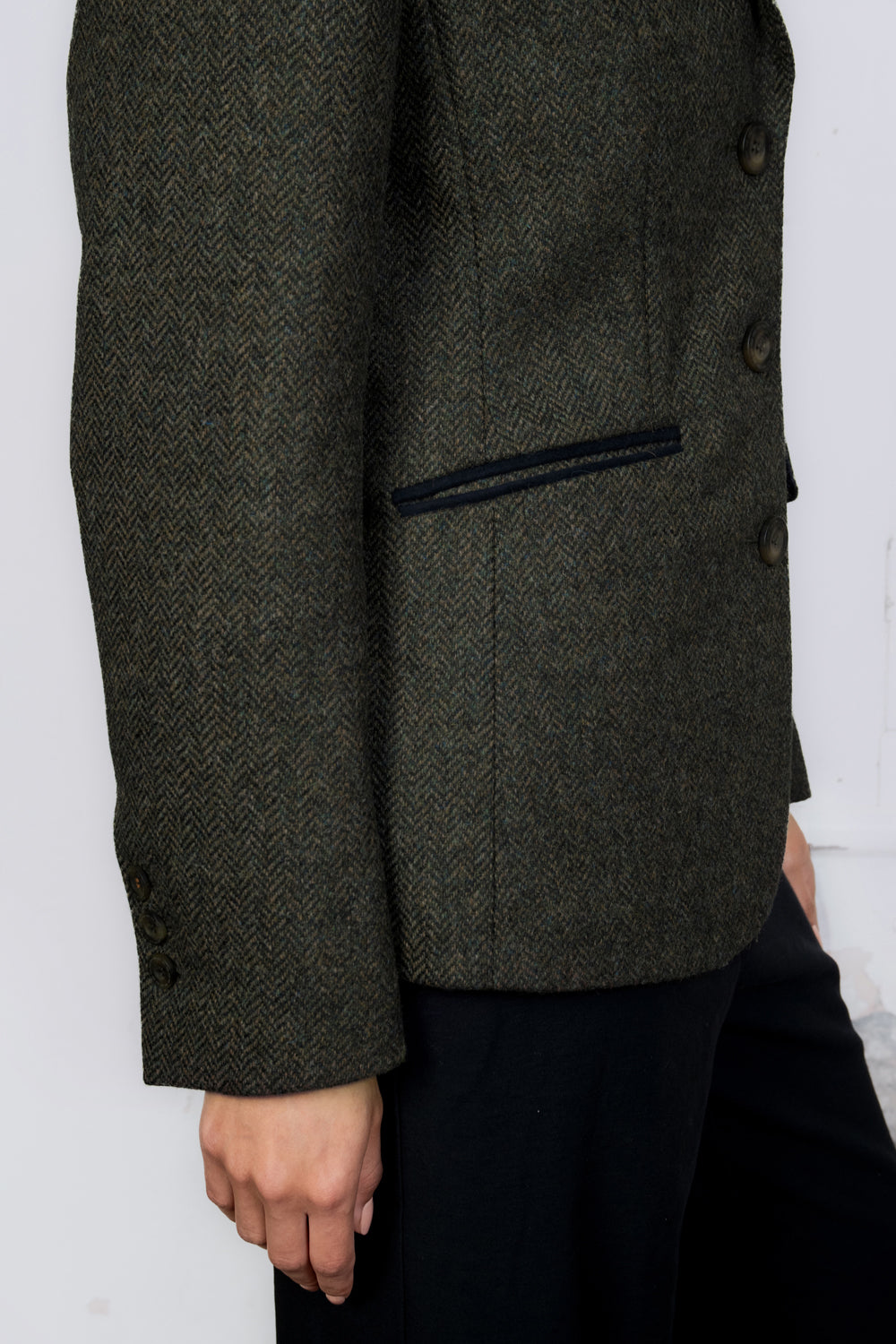 Tara Tweed Hacking Jacket
I am positively delighted with my Jack Murphy hacking jacket. The cut is fantastic, and the material is beautiful . In all the style is timeless. Thank you,
Tara Tweed Hacking Jacket
I am positively delighted with my Jack Murphy hacking jacket. The cut is fantastic, and the material is beautiful . In all the style is timeless. Thank you,
Tara Tweed Hacking Jacket
I am positively delighted with my Jack Murphy hacking jacket. The cut is fantastic, and the material is beautiful . In all the style is timeless. Thank you,
Tara Tweed Hacking Jacket
I am positively delighted with my Jack Murphy hacking jacket. The cut is fantastic, and the material is beautiful . In all the style is timeless. Thank you,
Tara Tweed Hacking Jacket
I am positively delighted with my Jack Murphy hacking jacket. The cut is fantastic, and the material is beautiful . In all the style is timeless. Thank you,