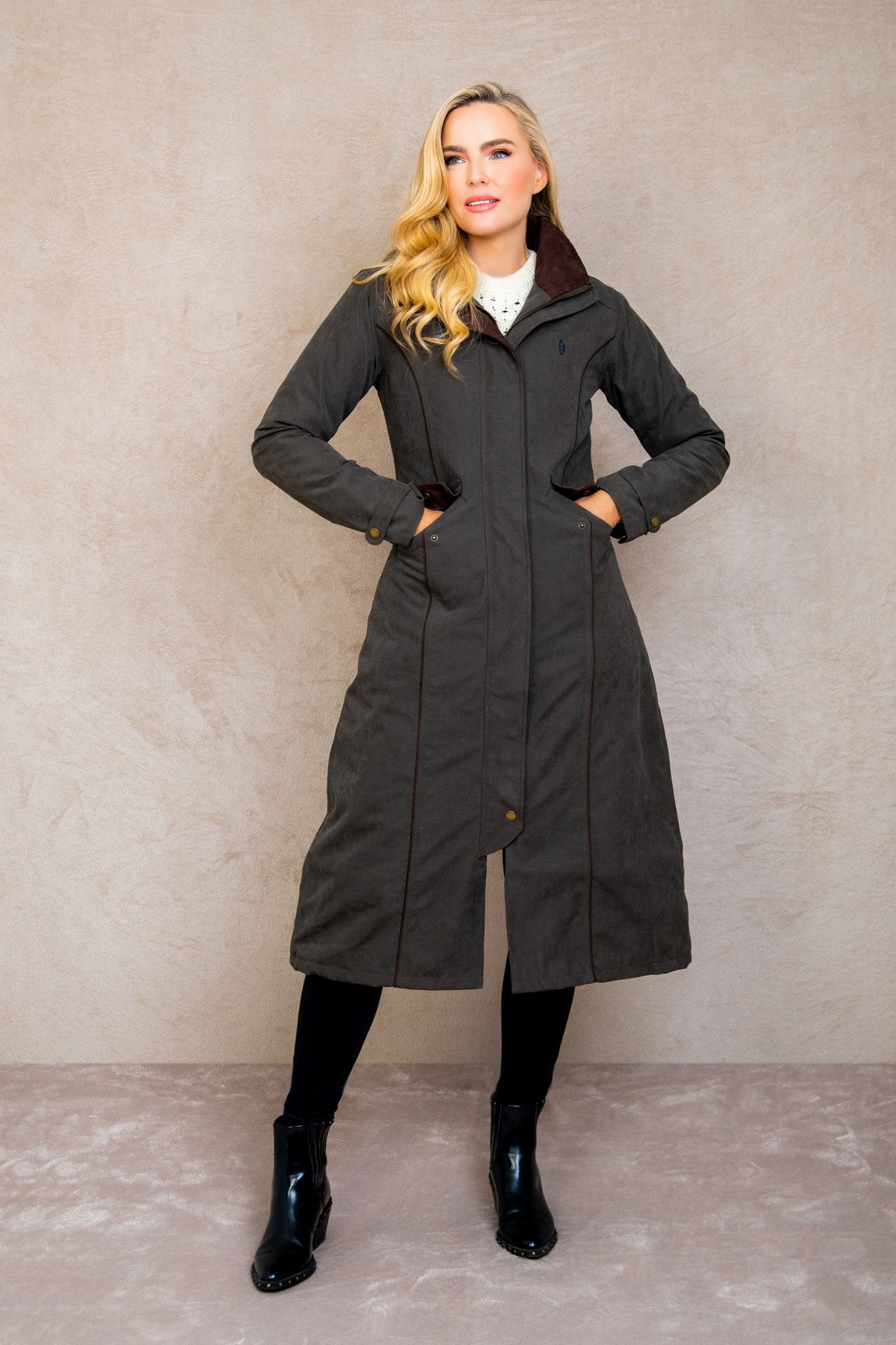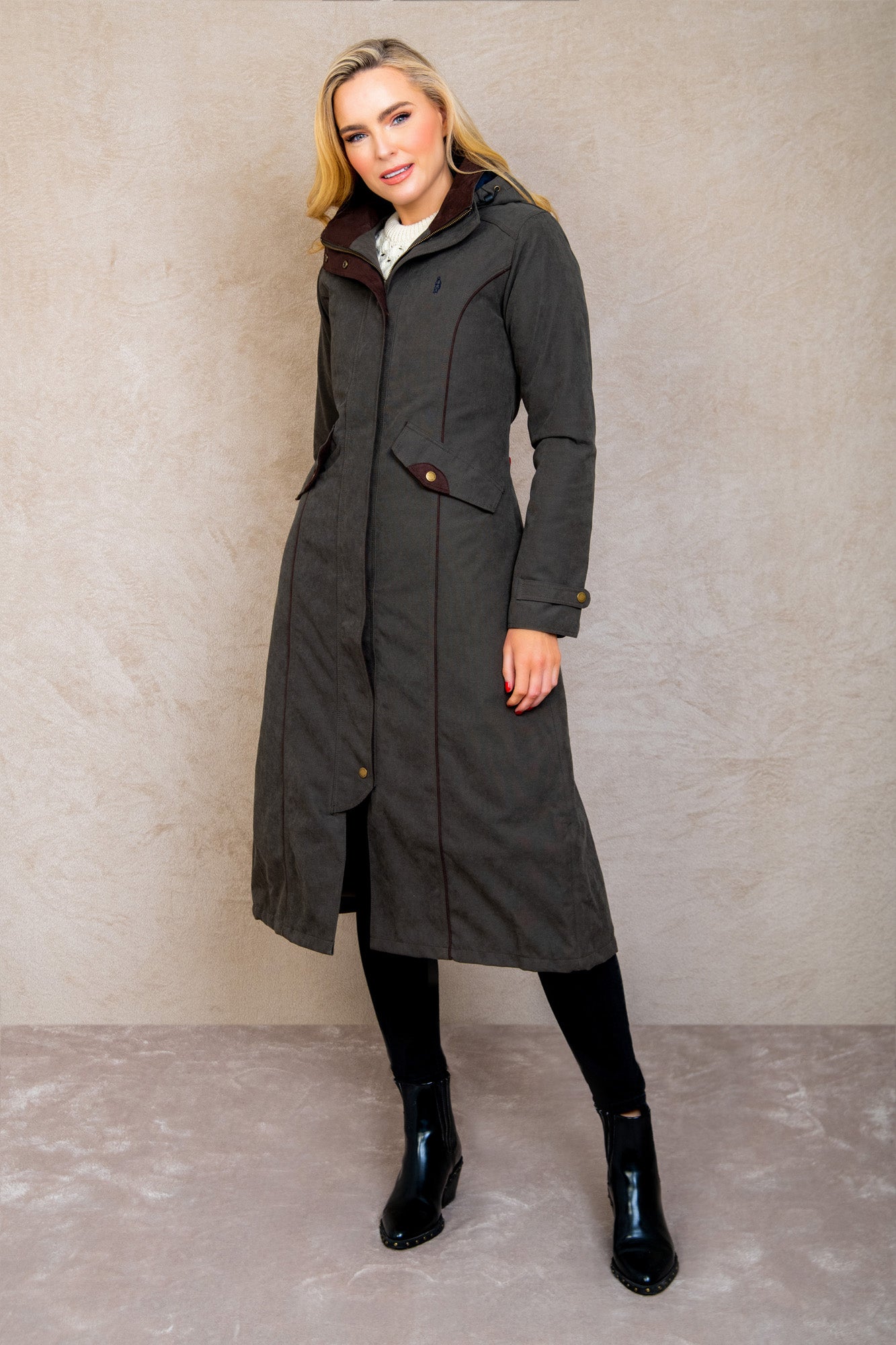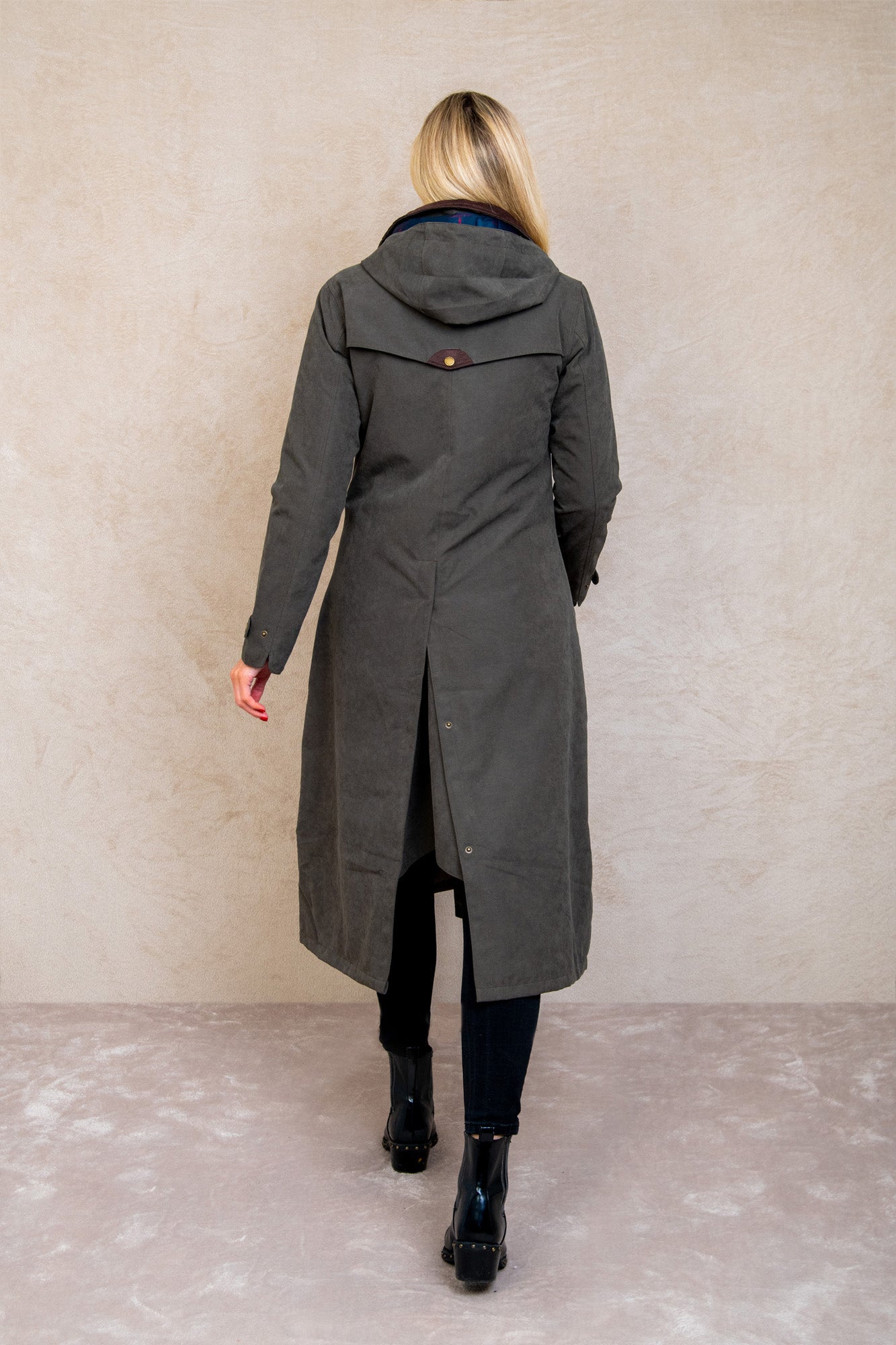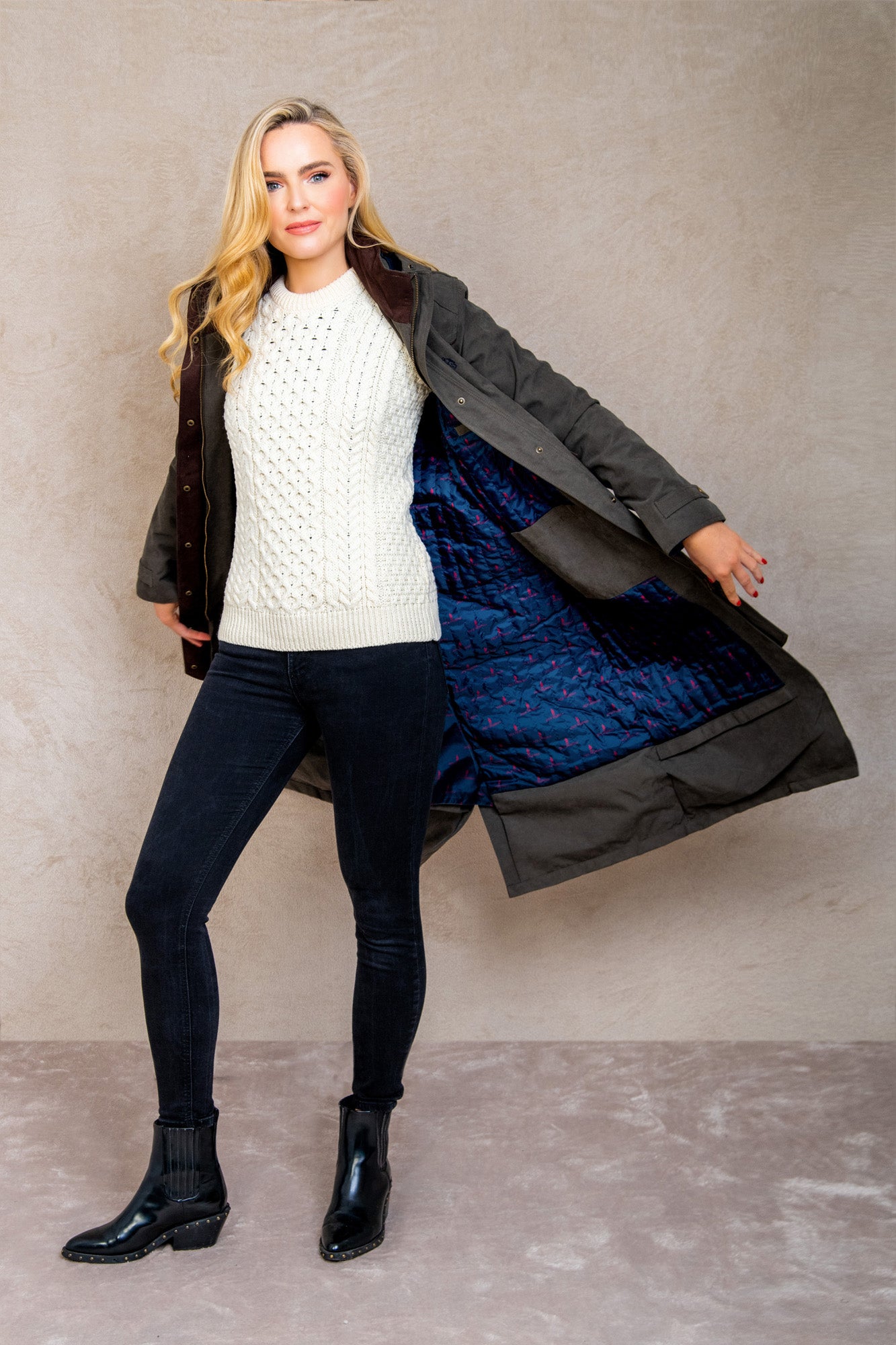 Erin Waterproof Coat - Olive
---
Step into the world of unmatched protection and timeless elegance with our ultimate full-length coat, the epitome of our waterproof collection. Crafted to stand up to the harshest elements, this coat is made from durable, breathable fabric that ensures you stay comfortable and dry in any weather. A true marvel of engineering, it's fully waterproof and windproof, providing the utmost defence against rain and gusts.
Exceptional Warmth and Comfort: We understand the importance of staying warm during chilly weather, and that's why our full-length coat comes with a padded lining. Designed to keep you cosy, it wraps you in a cocoon of warmth, making it a reliable companion during colder seasons. To complement this, we've added leg straps to provide extra protection and keep your legs dry even during heavy downpours.

Thoughtful Design for Unmatched Functionality: At Jack Murphy, we believe that functionality should never compromise style. Our coat boasts a large back vent, allowing for ease of movement while keeping you comfortable and unrestricted during outdoor activities. The removable hood and adjustable cuffs offer the versatility to adapt to changing weather conditions, ensuring you remain fully shielded from rain and wind.
Exquisite Details to Compliment the Feminine Form: Every aspect of this beautiful coat is thoughtfully designed to accentuate the feminine form. Notice the princess seams with moleskin detailing, adding a touch of sophistication and elegance. These subtle features not only enhance the coat's aesthetic appeal but also create a flattering silhouette that complements your natural curves.
A Sustainable Choice for a Better Future: At Jack Murphy, sustainability is at the heart of everything we do. As part of our commitment to a greener fashion industry, our clothes are crafted to last using ethically sourced fabrics. We've embraced a "make to order" production approach, minimising waste and reducing our environmental impact.

Versatility for Equestrian Pursuits and Beyond: Our full-length coat is not only a stylish choice for everyday wear but also a perfect option for equestrian pursuits. Its design, similar to our beloved Malvern long coat, makes it a reliable and fashionable choice for horse riding and other outdoor activities.
Elevate your outdoor experiences with the ultimate full-length coat, thoughtfully crafted to embody the perfect balance of form and function. Embrace the protection, elegance, and sustainability that define the essence of the Jack Murphy brand.
Key Features: 
Over 20,000 waterproof seals with taped seams guarantee full rain protection, leaving you confident and dry in any weather.

Jack Murphy's signature printed lining, padded for extra warmth, showcases our dedication to quality and style.

Dual zip functionality ensures ease of movement, making this coat a reliable choice for outdoor pursuits and active lifestyles.

Moleskin trim adds a touch of luxury and sophistication, accentuating the collar, pockets, and princess seams.

Slanted front pockets and an internal pocket offer practicality and convenience for carrying your essentials.

With machine washable capabilities, you can keep your coat clean and fresh without worrying about damaging the waterproofing.
Care instructions

- Machine wash on a gentle cycle at 30 degrees or less
- Do not tumble dry or dry clean 
- Use only a non biological detergent when washing
- Drip dry, do not wring 
Model Size - UK10 Model Height - 5'10''(in feet & inches) 1.778(m) 177.8(cm)

Colours Available - Navy / Olive / Camel 

Storage - When not in use, we recommend storing your raincoat hanging. Avoid hanging next to garments made of leather or darker denim, to avoid staining from other materials.
Sizing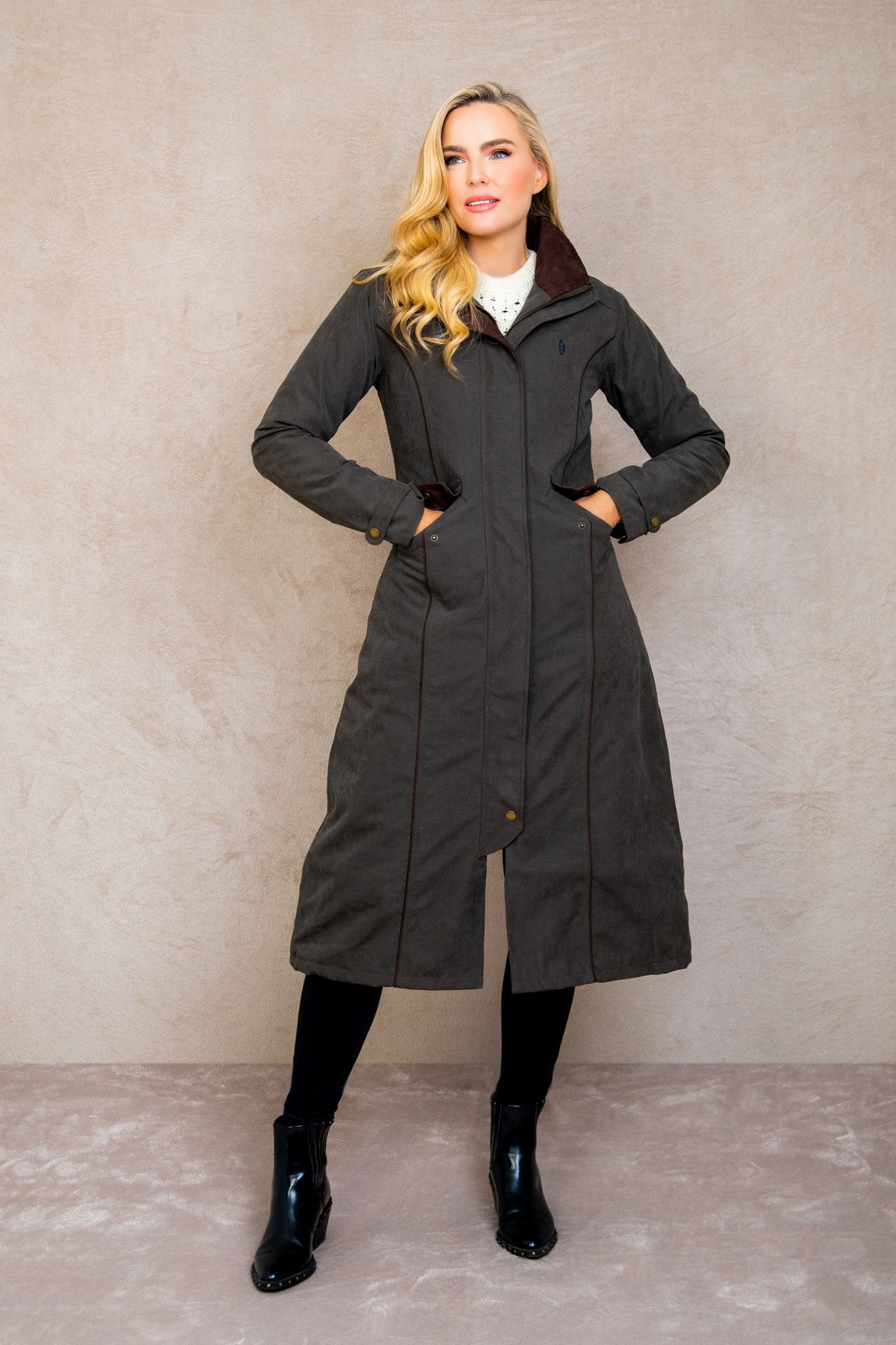 Erin Waterproof Coat - Olive
Sale price

$335.00
Regular price
Choose options