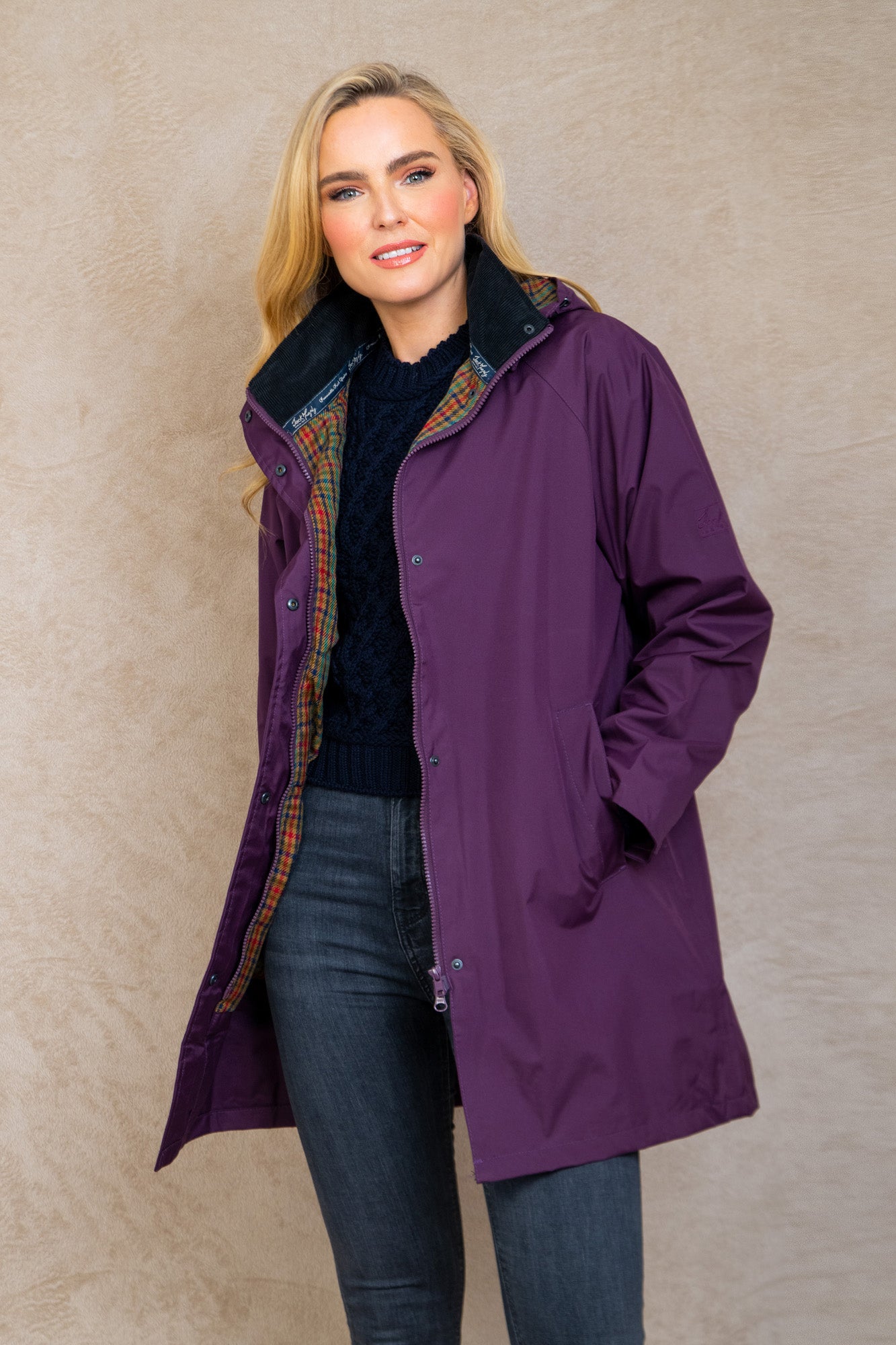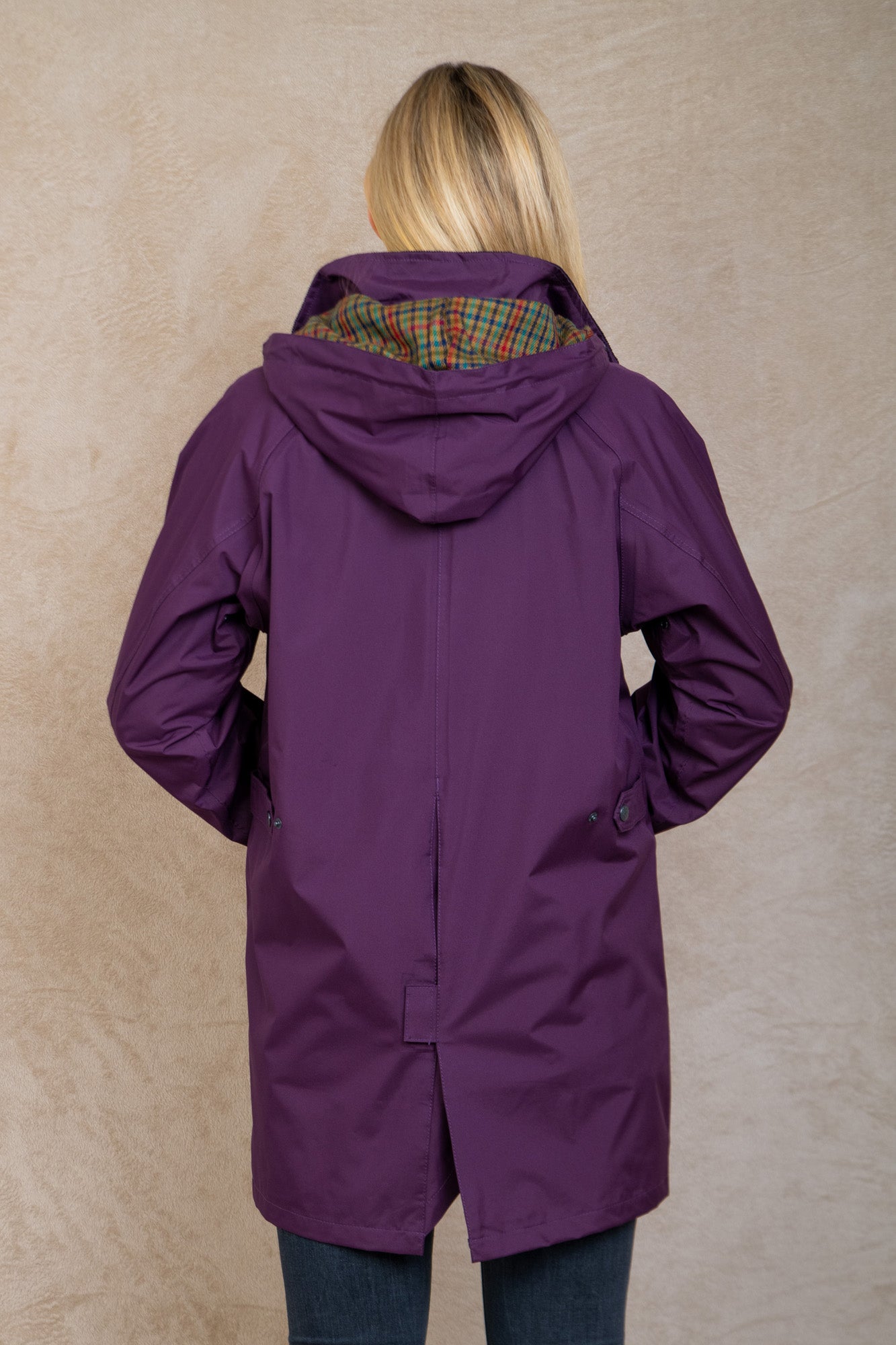 Oxford Waterproof Coat - Blackberry
---
The Oxford ¾ Length Raincoat by Jack Murphy is not just your ordinary raincoat; it's a true masterpiece that combines functionality, style, and sustainability in one exceptional garment. Crafted to withstand the harshest weather conditions, this raincoat is not just waterproof but also windproof, making it the ultimate companion for any outdoor adventure.
Boasting rich details and exquisite craftsmanship, the Oxford raincoat is adorned with a heritage check lining that exudes elegance and sophistication. Its thoughtful design includes a detachable hood, providing you with the flexibility to adapt to changing weather conditions effortlessly. The back vent ensures breathability and ease of movement, while adjustable cuffs allow you to tailor the fit to your liking. The added corduroy trim on the collar adds a touch of luxury, making this raincoat an impeccable choice for both style-conscious individuals and outdoor enthusiasts.
Versatility is at the heart of the Oxford raincoat's design. It serves as a great layering piece over knitwear, making it ideal for all seasons. Whether you're exploring the countryside or navigating the city streets, this raincoat effortlessly transitions from rural to urban environments, adding an air of sophistication to any outfit.
Embrace the Oxford ¾ Length Raincoat, a true symbol of Jack Murphy's dedication to craftsmanship, style, and sustainability. Experience the unmatched comfort and protection it provides, knowing that you're not just wearing a raincoat but making a conscious choice to support a more environmentally-friendly and ethical fashion world. Whether you're walking the dog, cheering on the sidelines, or navigating city streets, the raincoat is your ultimate companion, keeping you dry and stylish throughout your every adventure.
Conscious production lies at the core of Jack Murphy's sustainability commitment. The Oxford raincoat is thoughtfully crafted to last, using ethically sourced fabrics that align with eco-conscious values. By adopting a "make to order" production approach, the brand ensures minimal waste, contributing to a more sustainable and responsible fashion industry.
Key Features: 
Waterproof and windproof mid-length coat with taped seams for full rain protection.

Detachable hood and adjustable cuffs for extra rain protection.

Jack Murphy heritage check lining for added warmth.

Air vents under arms for breathability.

Single back vent with internal flap for ease of movement.

Dual zip functionality for added convenience.

Corduroy trim on collar for comfort.

Heritage check lining detail when cuffs are turned up for a styled look.

Fleece-lined slanted front pockets and internal pocket.

Made for equestrian and outdoor pursuits.

Slightly oversized for layering; some customers prefer to size down.
Care instructions: Hand wash only, use a non biological detergent or pure soap flakes. Do not tumble dry. 
Model is Wearing - UK10 Model Height - 5'10''(in feet & inches) 1.778(m) 177.8(cm) 

Colours Available - Navy / Olive / Blackberry
Storage - When not in use, we recommend storing your raincoat hanging. Avoid hanging next to garments made of leather or darker denim, to avoid staining from other materials.
Not tested on animals. Does not contain animal-derived products
Sizing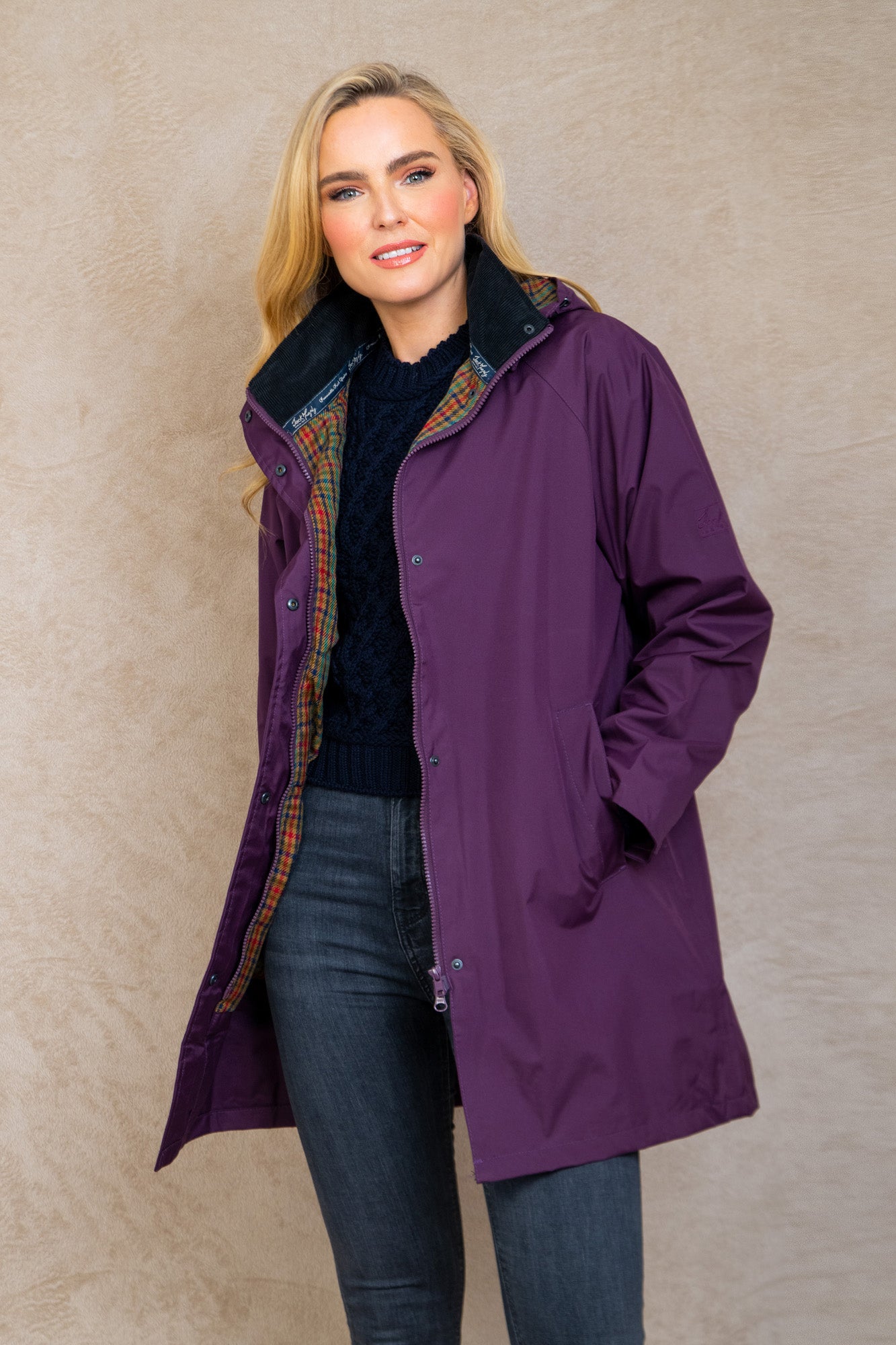 Oxford Waterproof Coat - Blackberry
Sale price

$179.00
Regular price
Choose options