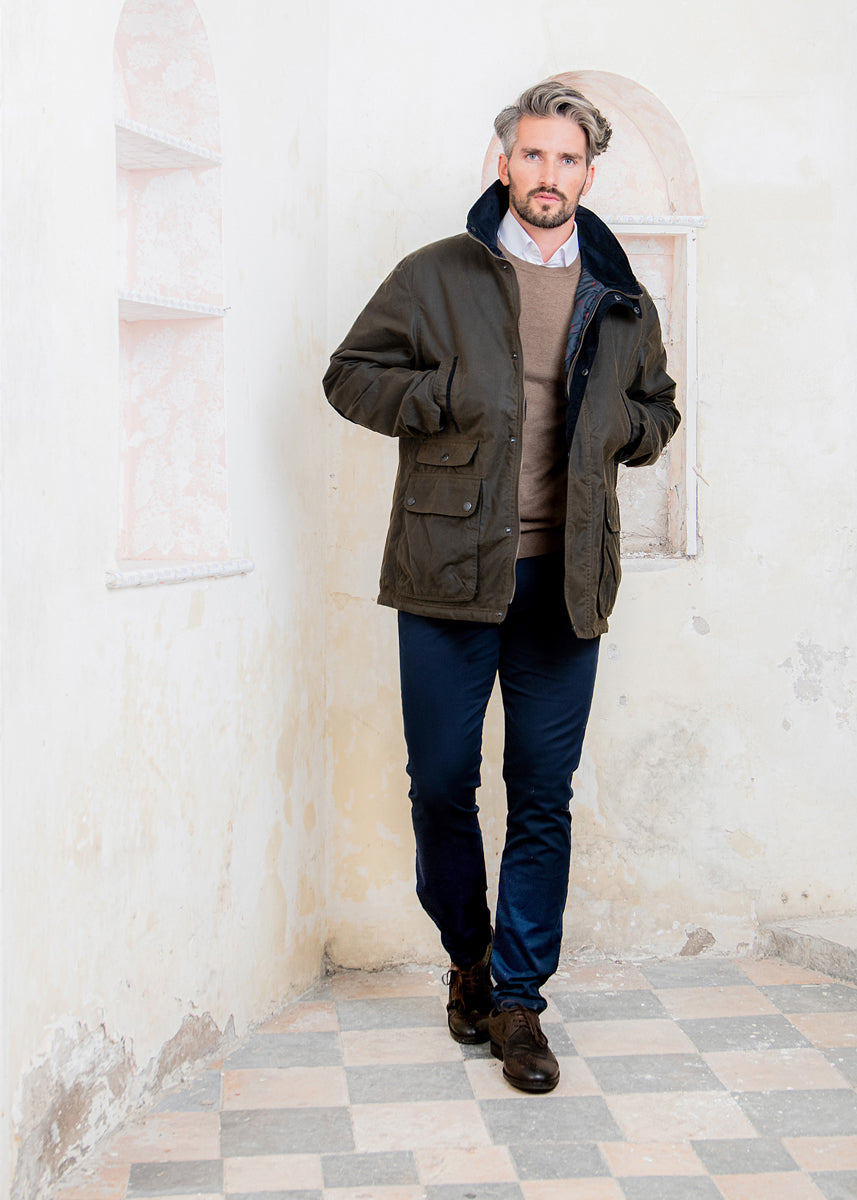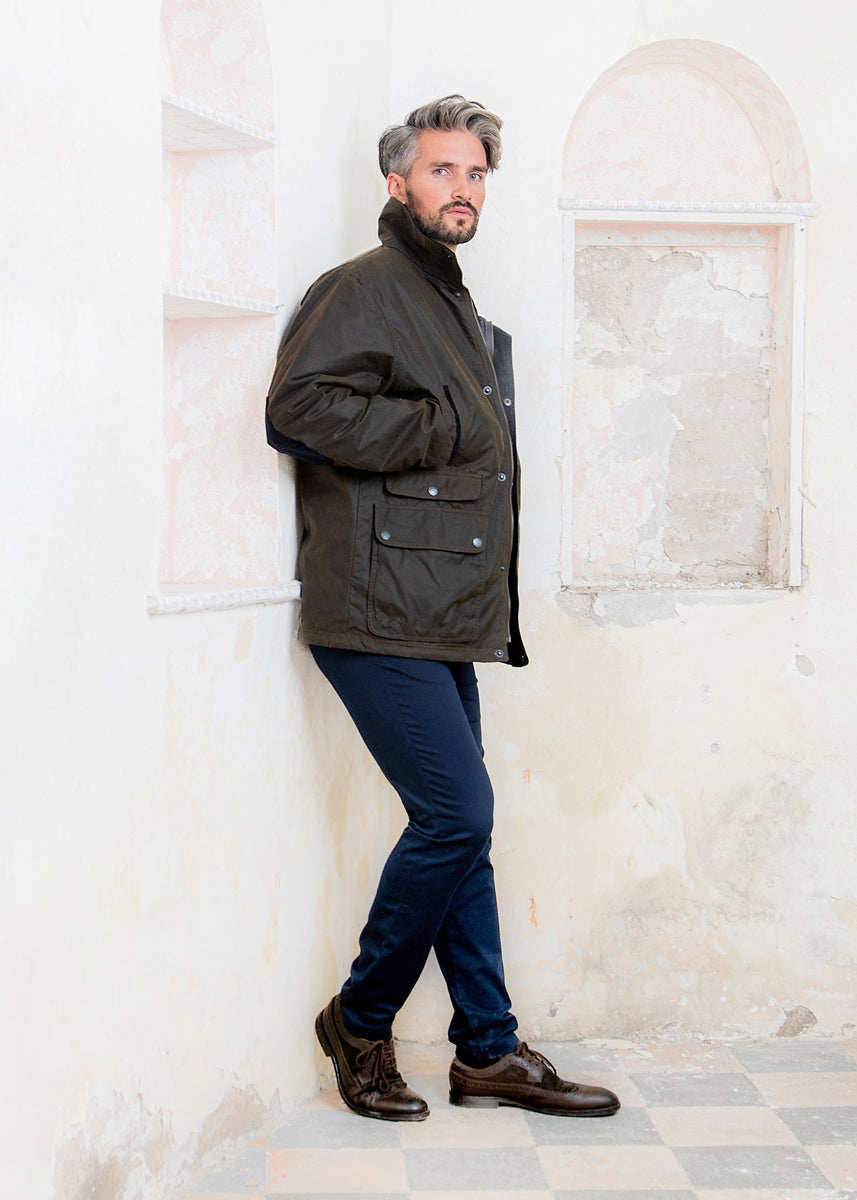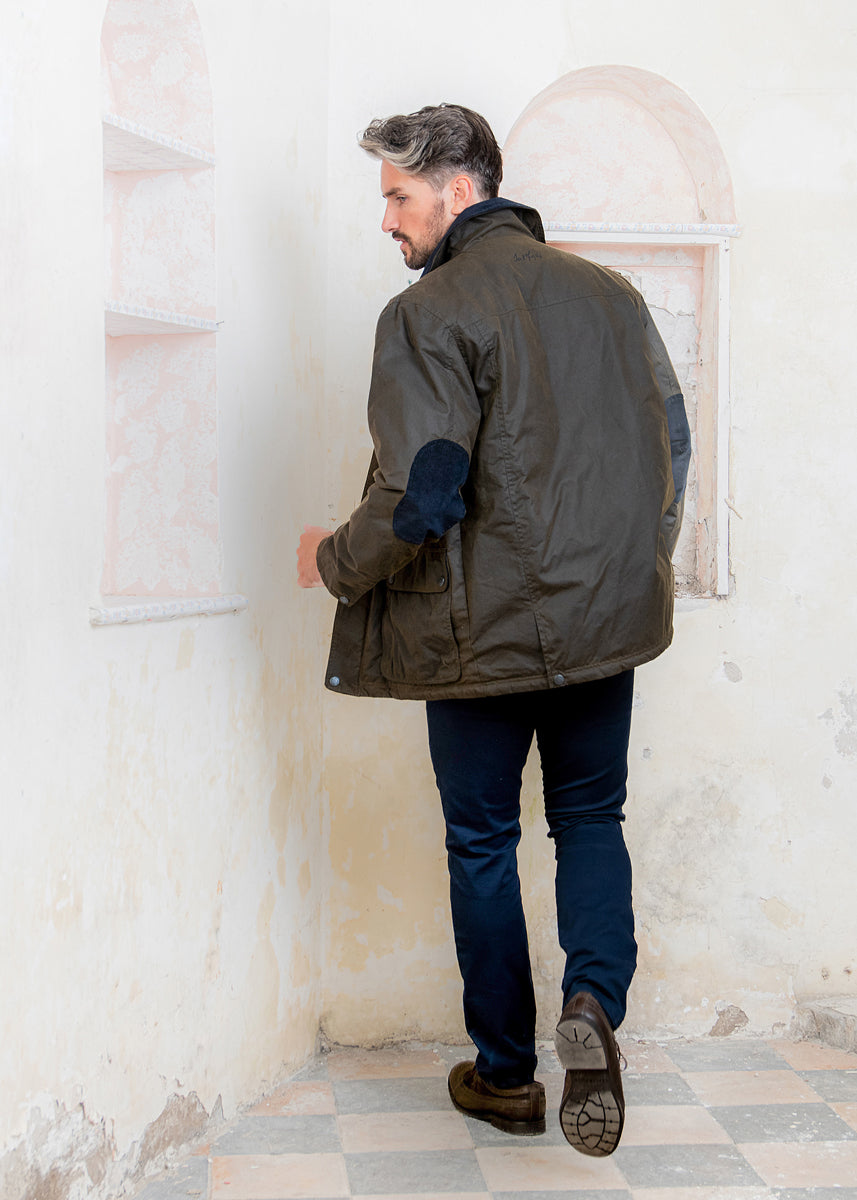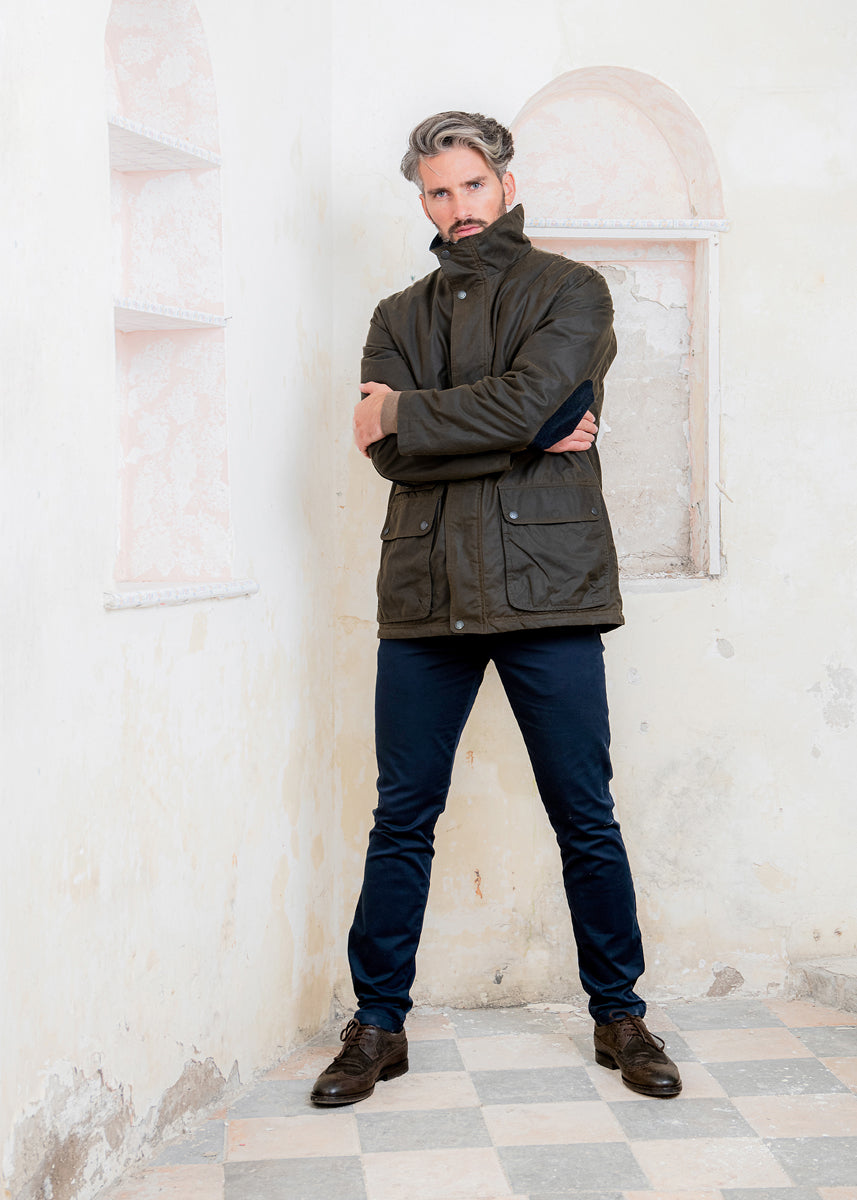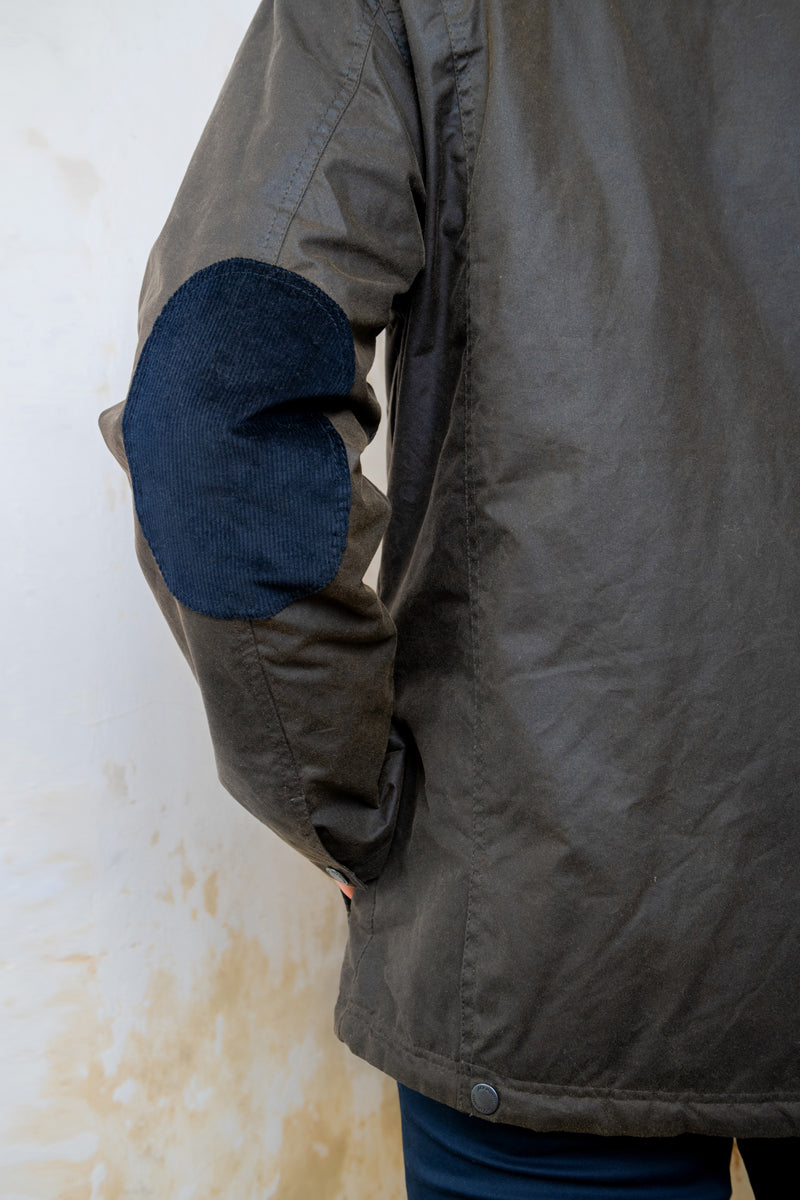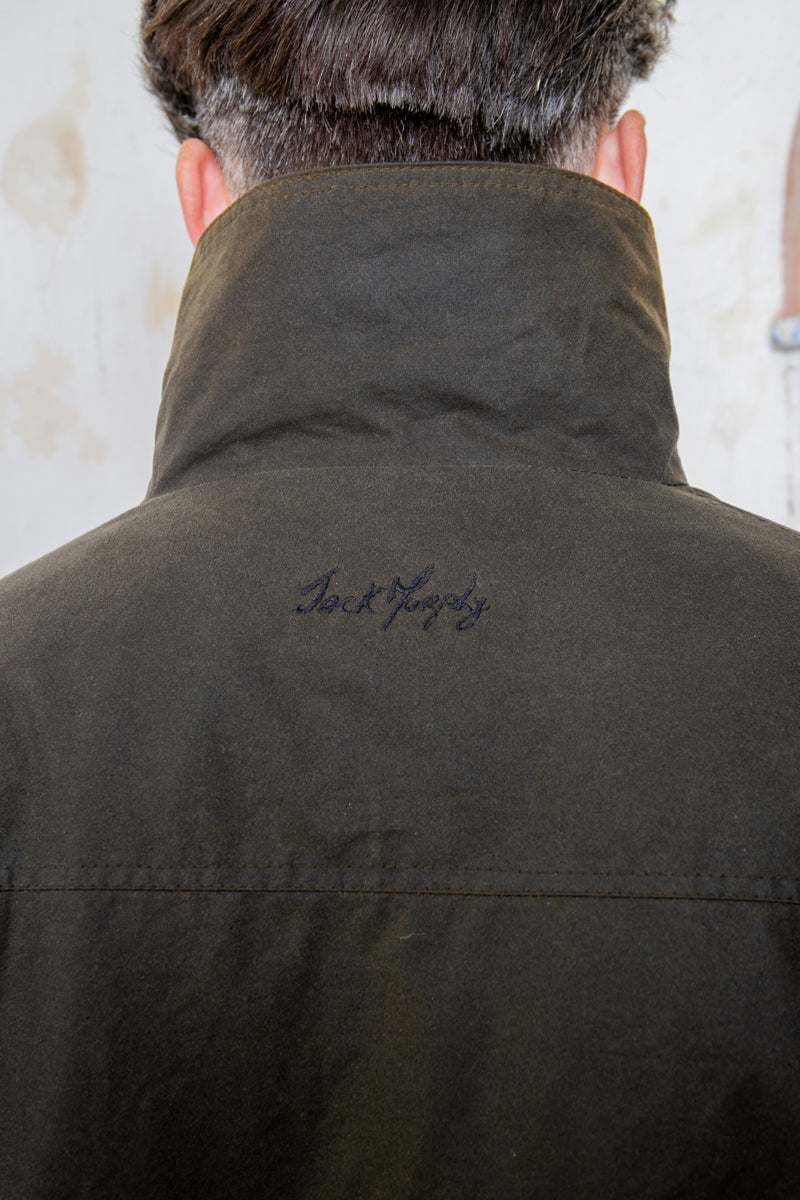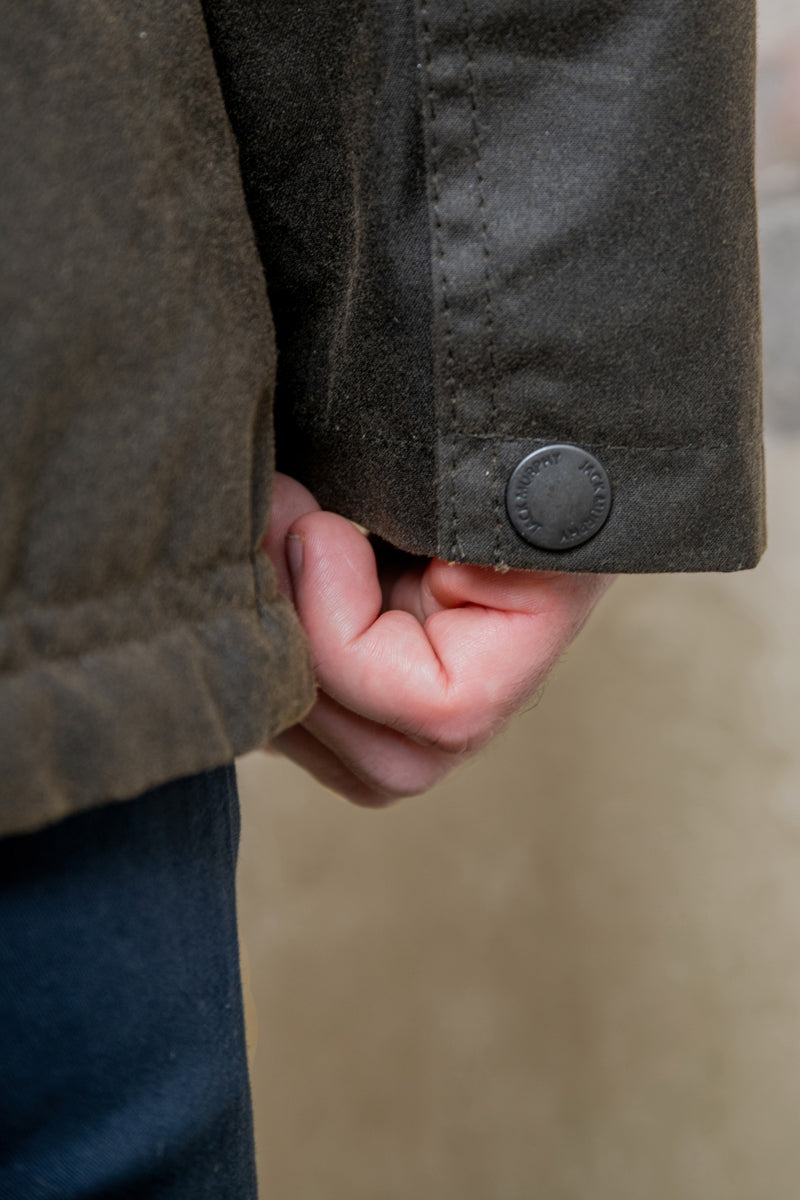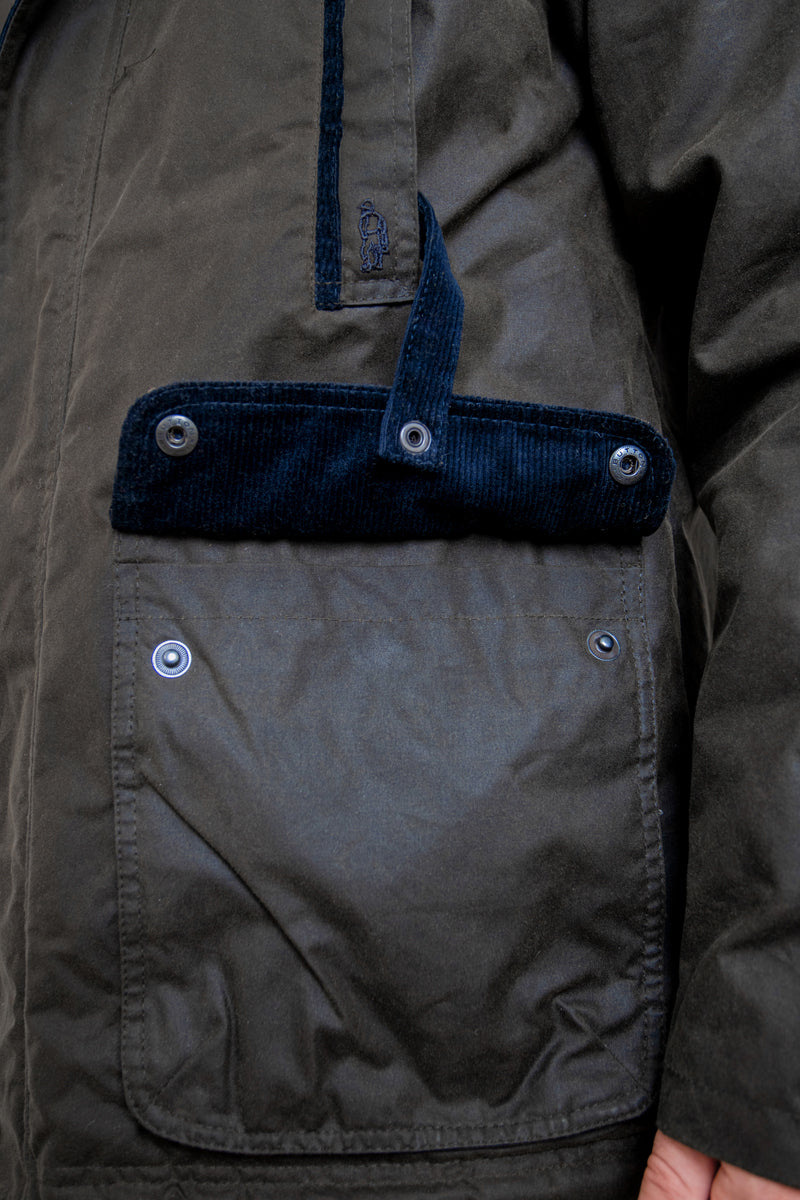 Archie Wax Jacket - Olive
---
Step into Timeless Elegance and Warmth: Crafted with meticulous attention to detail, the Jack Murphy Wax Jacket embodies quintessential classic style. Made from high-quality Scottish waxed cotton by Halley Stevenson, this jacket exudes a sense of refined sophistication that stands the test of time. The quilted lining adds an extra layer of cosiness, making it the perfect companion for chilly days.
Thoughtful Design and Functionality: The jacket features an array of carefully designed elements that enhance both style and practicality. Deep front bellow pockets offer ample storage space, while fleece-lined hand warmer pockets keep your hands toasty during colder weather. Additionally, two side pockets and an inside lined pocket provide convenient storage options for your essentials, ensuring you have everything you need at your fingertips.
Unmatched Versatility for Every Occasion: This Jack Murphy Wax Jacket is a true wardrobe staple, effortlessly complementing a range of outfits. Whether you layer it over your favourite knitwear or pair it with a crisp shirt for a smart-casual ensemble, the jacket exudes an air of refined charm. Its versatility extends to all seasons, allowing you to wear it comfortably in both country and city settings.
A Sustainable Choice for Conscious Consumers: At Jack Murphy, we take our sustainability commitment seriously. With a strong focus on ethical practices, we craft our clothes to last, using only ethically sourced fabrics. Our commitment to minimising waste is evident through our "make to order" production approach, reducing our environmental impact and promoting a more sustainable fashion industry.
Exquisite Details for Unmatched Comfort: The Jack Murphy Wax Jacket goes beyond mere style, ensuring maximum comfort for your outdoor adventures. The stand collar features corduroy trim, providing a luxurious touch and protecting your neck from the elements. Corduroy detailing on the elbow pads, bellow, and handwarmer pockets adds subtle sophistication to the jacket's design. The front placket cleverly covers the zip and snap fasteners, maintaining a polished appearance while keeping you shielded from the weather. Turn up cuffs offer versatility in styling, and an internal pocket keeps your valuables safe and secure.
Unrestricted Movement with Double Back Vent: Designed with your active lifestyle in mind, the jacket includes a double back vent. This thoughtful addition ensures ease of movement, allowing you to navigate your outdoor activities with grace and comfort.
The Quintessentially Classic Jack Murphy Wax Jacket is more than just a piece of clothing; it's a timeless investment in style, warmth, and sustainable fashion. Embrace the best of both worlds with this exceptional jacket, perfectly tailored for those who appreciate the finer things in life.
Key Features:

- Classic wax jacket made with Halley Stevenson Scottish waxed cotton.
- Relaxed fit with Jack Murphy signature printed lining quilted for extra warmth.
- Waterproofed fabric with taped seams.
- Deep front cartridge pockets with flap retainer straps as a shooting feature. 
- Fleece lined hand warmer pockets.
- Stand collar with corduroy trim for comfort. 
- Corduroy detailing on elbow pads, bellow and handwarmer pockets
- Front placket covering the zip and snap fasteners.
- Turn up cuffs and an internal pocket. 
- Double back vent for ease of movement.
Care instructions - Never use soap or detergents. Sponge lightly with cold water. Regular reproofing will maintain weatherproof qualities of this fabric & prolong its lift

Model sizing - Medium 

Colours Available - Olive & Navy 

Storage - When not in use, we recommend storing your raincoat hanging. Avoid hanging next to garments made of leather or darker denim, to avoid staining from other materials.
Not tested on animals. Does not contain animal-derived products
Sizing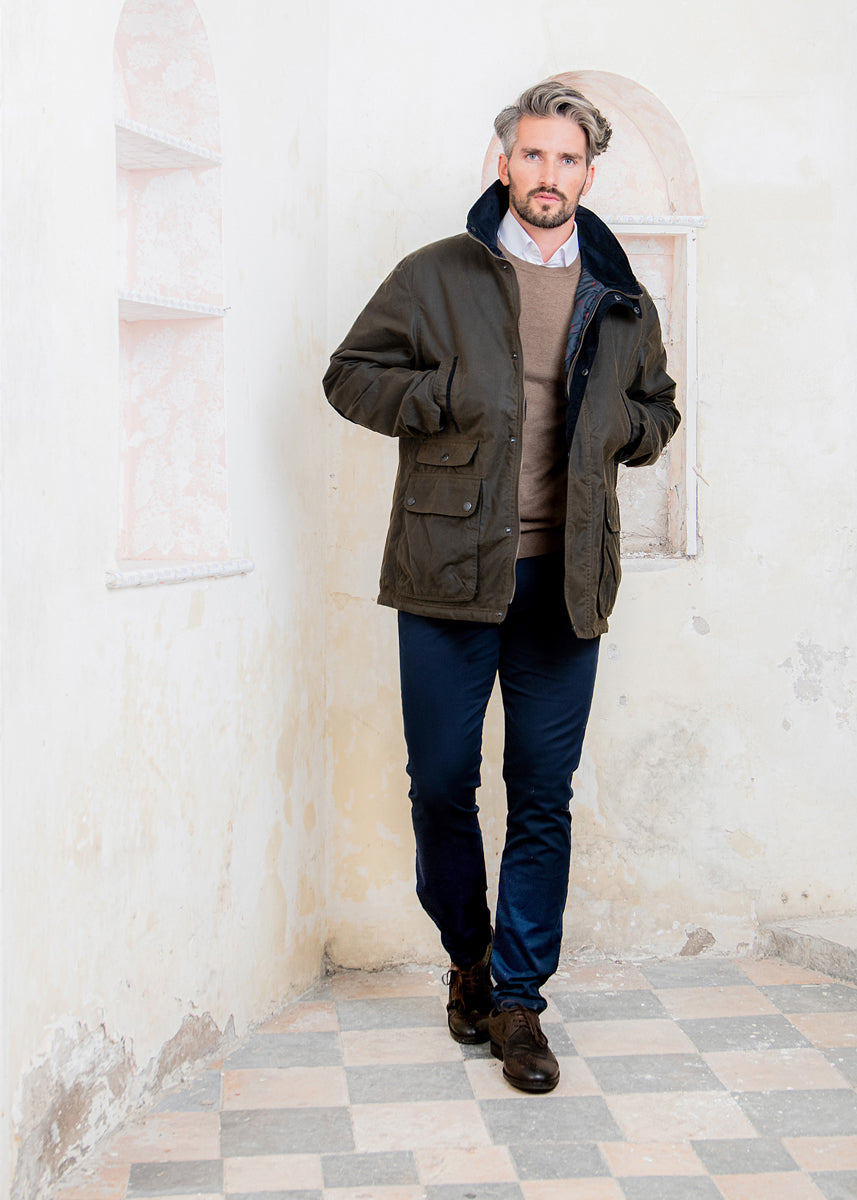 Archie Wax Jacket - Olive
Sale price

$341.00
Regular price
Choose options